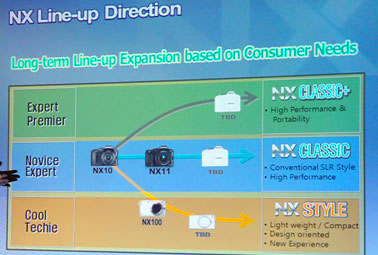 Samsung showed future NX system plans at a korean presentation, Key Points of the presentation:
1. The NX line will have three categories NX Style, NX Classic and NX Classic+
1.1) NX Style: Light weight / compact and Design oriented. – ->NX100
1.2) NX Classic: Conventional SLR type for enthusiast users  –> NX10, NX11
1.3) NX Classic+: High Performance SLR (Maybe a Full Frame Sensor camera?) made for advanced users. –> DSLR To be announced soon.
2. New 700mm lens and new GPS module
src & img copyright belongs to – blog.naver.com