There lot of small articles craving our attention, so we decided to put the first ever round-up article here at the new camera website, it becomes necessary when you have a lot of small news / videos.. with very less content.. Since I am not a fan of micro-blogging so a big round-up is better for me…
Sigms CEO interview (in english)

Take a look at the Sigma SEO interview in english
For me Sigma was just a third party lens manufacturer for a while ago, but after the announcement of ART lenses from Sigma.. the game totally changed and even I have purchased a 17-35mm F1.8 Lens for my Canon 70D DSLR. The company ART series lenses are just awesome and Canon and Nikon must learn how to make better and bright aperture based zoom lenses from Sigma.
Take a look at Company philosphy:
"We're still a private company, not a listed company. Epically we are still family owned. So we don't need to maximized turnover, sells and profits. Public company have to do that to keep their stock price high. But in our case, our goal is just to continue the business and protect the employees. And that is very important. So we gave up to grow rapidly. We decided to stay in Japan, and to explore what can be done here. And that's one reason why we change our main business form volume zone to mid-high end product."
Sigma 35mm Tear down
The Sigma 35mm f/1.4 DG HSM finally teared down by lens rentals Roger Cala, take a look.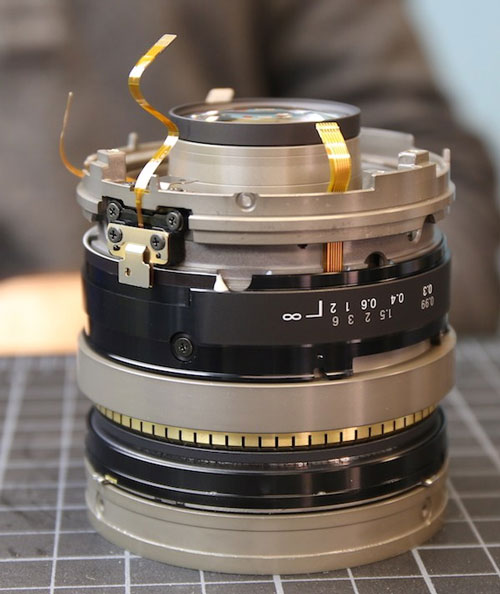 SIgma 35mm ART lens dismantled,
In the conclusion:
For the most part, there weren't many surprises in this teardown. We've seen how Sigma has remade themselves as a company making only superb optics at very reasonable prices in the last few years. This lens is constructed very well. There isn't the amazing heavy-duty construction of the Canon 35mm f/1.4. Instead, I'd characterize the construction of the Sigma as very efficient and carefully laid out. There's a solid metal core with other parts all connecting directly to that core. Little touches like pegs to make sure a part is inserted in the proper rotation and shields over critical parts didn't add much expense or weight, but show care was taken in the design. There's nothing in this teardown that looked like a weak point. Read the review and see the many pics of the teardown…
Canon ME20F-SH Sample Video – a camera that can see in dark

A text from B&H Reviewers
The Canon ME20F-SH presents itself as a unique tool for a wide range of applications. Part cinema camera, part surveillance tool, part studio camera, the camera is ready to serve anyone who wants to capture images in extremely dark conditions without having to sacrifice color or resort to infrared lighting and sacrifice nature color reproduction. While it isn't necessarily meant to be an "A" camera for most productions, I'm sure wildlife and nature documentarians, cave and deep-sea videographers, and astrophotographers in particular, will be champing at the bit to try out the camera. With its ability to capture previously impossible shots, the ME20F-SH could help reinvent the very look and feel of ultra-low-light videography. Exciting times are ahead. Read the review…
Canon 7D Shutter Mechanism
Take a look at how Canon's new motor-driven mirror mechanism used inside on the Canon EOS 7D Mark II, the new system allow Canon 7D to shoot 10fps burst rate.