Ricoh GR vs Ricoh GR Digital IV, the majoe specification difference is listed below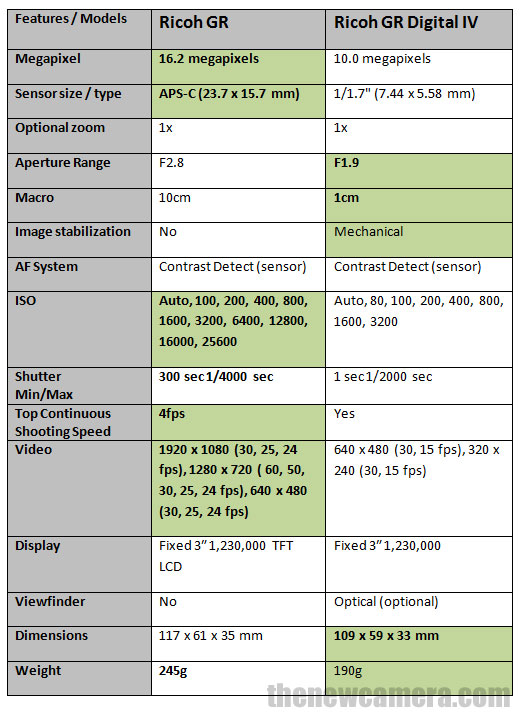 More megapixel compared to Ricoh GR Digital IV – 16 megapixel, APS-C-sized CMOS sensor, no low-pass filter and a completely redesigned optical path the GR is built for superb image performance.
Big sensor size compared to Ricoh GR Digital IV – The new RICOH GR camera features an APS-C-sized CMOS image sensor delivering shallow depth of field, better low-light performance and a wide dynamic range.
Advance Image Processor – newly developed GR ENGINE V imaging processor which optimizes high-sensitivity shooting to ISO 25600 minimizing noise, producing accurate, color-rich images.

High-End Lens for GR – newly developed and optimized 18.3mm (28mm in 35mm format) F2.8 lens compactly provides high-resolution, wide-angle images with stunning edge-to-edge sharpness all while minimizing chromatic aberration and distortion.
Better ISO range compared to Ricoh GR Digital IV –25600 vs 3200
Fast continuous Shooting Speed compared to Ricoh GR Digital IV – 4fps continuous shooting shooting speed @ 16Mp resolution.
Better video quality compared to Ricoh GR Digital IV
Price Factor – Ricoh GR will cost your approx $796 and GR IV will cost you $596 only.
Verdict: We Recommend Ricoh GR
The ultra compact APS-C GR will cost you approx $796, available at B&H