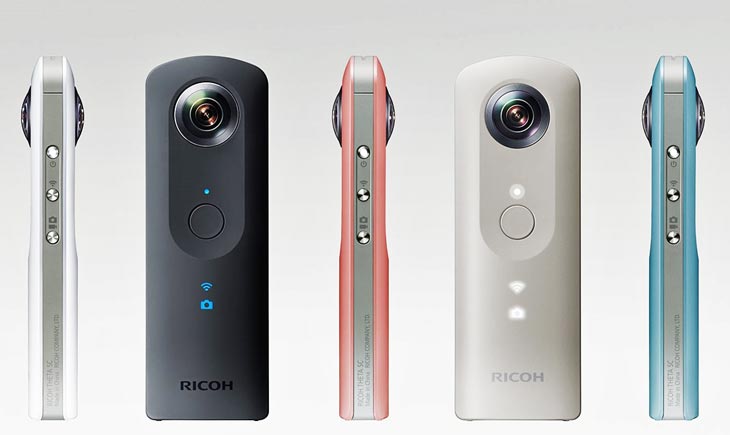 The long rumored Theta SC camera announced today, the camera features exact same core specification as we have published earlier here.
Actually the Theta SC is the stripped down version of Theta S that features twin 14MP sensor behind and it can capture 360 video and still images and later you can post it on social media or you can see it in VR headset. The only problem with Theta SC is its limited to Full HD mode with a limitation of 5min and no HDMI port.
The Theta SC will be available from November 2016 in beige, blue, pink and white at a price of $299/£249.
Theta SC Press release:

RICOH UNVEILS THETA SC: A FULL-FEATURED 360-DEGREE CAMERA DESIGNED TO APPEAL TO A BROAD RANGE OF CONSUMERS
Newest addition to Ricoh's pioneering Theta line makes it easy for anyone to shoot and share high-quality spherical stills and videos, available in four colors
WEST CALDWELL, NJ, October 12, 2016 – Ricoh Imaging Americas Corp. today announced it has added a full-featured, affordably-priced mid-range model to its pioneering line of Theta 360-degree spherical imaging cameras. Merging advanced imaging capabilities with simplified operation, the new Ricoh Theta SC is designed to appeal to the growing numbers of consumers interested in capturing and sharing 360-degree photos and videos.
Market demand for cameras that capture immersive imagery is on the rise, and experts predict that devices required for augmented- and virtual-reality experiences—such as 360-degree cameras and VR headsets—will be at the top of consumers' holiday 2016 gift lists.
Ricoh offers the industry's most extensive line of spherical imaging cameras, known for their high image quality, sleek design and ease of use. First introduced in 2013, Theta cameras are unique in their ability to allow consumers to record fully spherical images that show the entirety of a scene in photos or videos. The pocket-sized Theta SC is the fourth-generation Theta, joining the award-winning, top-of-the-line Theta S and entry-level Theta m15 series cameras.
Like its predecessors, the Theta SC boasts a stylish and sleek design, lending itself to quick and convenient operation. The camera can be handheld with one-button operation or placed on a flat surface or tripod to be remotely controlled by a smartphone and the newly updated Theta S app. It comes in a range of attractive colors including beige, blue, pink and white for a wide range of users.
The Theta SC delivers the same high level of image quality provided the Ricoh Theta S—with a high-performance CMOS image sensor and large-aperture dual lenses—in a more lightweight package. It captures 14-megapixel, high-resolution stills and records high-definition (HD) video clips up to five minutes in duration, in keeping with consumers' interest in shooting and sharing short video clips. The resulting spherical images can be easily uploaded to the dedicated theta360.com website; posted and shared via Facebook, Google+, Google Maps and YouTube, as well as shared via Twitter and Tumblr.
With the introduction of the Theta SC, Ricoh is also unveiling an updated Theta S app for iOS and Android devices. The newly updated Theta app is designed to be even easier to use— making capturing, viewing, managing and sharing fully spherical imagery a snap.
"Our goal is that the Theta SC will introduce more people to 360-degree spherical imaging," said Kaz Eguchi, president, Ricoh Imaging Americas Corp. "With the growing popularity of immersive imagery, augmented and virtual reality, we wanted to produce a high-quality camera at an affordable price point that appeals to anyone who is interested in capturing and sharing the world around them in this new, exciting digital imaging format."
| Pricing and Availability |
The Ricoh Theta SC is now at www.ricohimaging.com and retail outlets nationwide for a manufacturer's suggested retail price of $299.95.