Amazon UK leaked the announcement date and price of Pentax K30, the Pentax K30 will cost you approx 699 pounds (body with kit lens) and Amazon.co.uk will start shipping on June 25, 2012 in the UK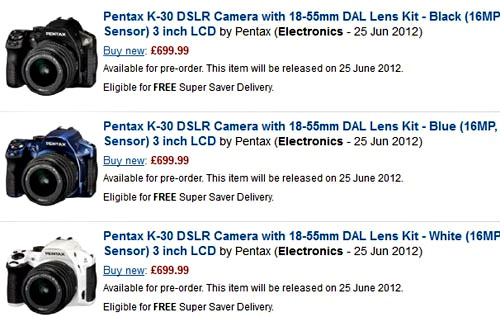 Pentax K30 was seems to have prematurely listed  on the Amazon UK website for few hours, but the listing is now removed.
As you can see the price of Pentax K30 with kit lens is 699 pounds  and Pentax K-01 available in UK at 679 pounds, which is only  20 pound less compared to K-30.
The price of Pentax K30 in US will be approx $949 and the price in the rest of Europe will be approx 799 Euros  for kit lens and 699 Euros for the body only.
See more about Pentax K30
via – pentaxforums