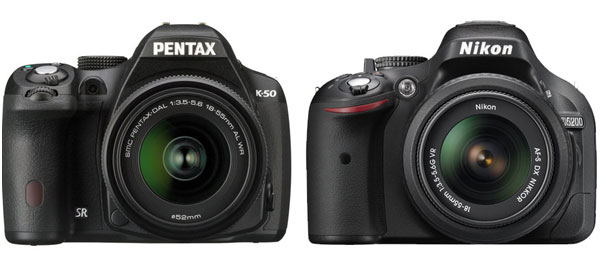 Pentax K-50 vs Nikon D5200 specification comparison review, Pentax K-50 features 16Mp sensor, ISO range upto 51200, 11 focus points and Fully Weather-Sealed Body Design, on the other hand Nikon D5200 features 24.2MP DX-Format CMOS Sensor, Up To ISO 25600 and plastic body, take a look at the major difference below.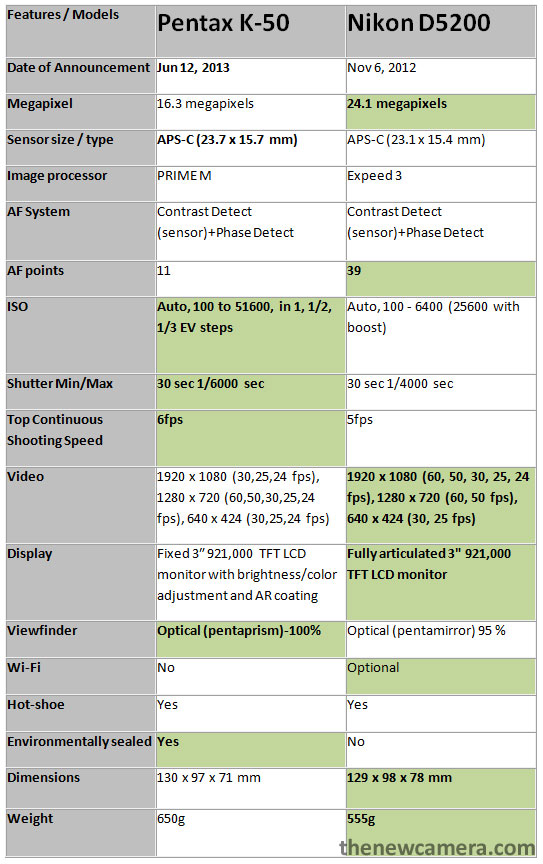 Sensor and Image Processor
Nikon D5200 features 24.1MP DX-format CMOS sensor and EXPEED 3 image processor, native sensitivity up to ISO 6400, which is then further expandable to ISO 25600. D5200 can capture 24 MP (full-resolution) still images at a continuous rate of 5fps, maximum shutter speed of D5200 is 1/4000th of a second.
Pentax K-50 features 16.3 megapixel APS-C-sized CMOS sensor and PRIME M image processing engine, ISO Sensitivity from 100 to 51200, The speed afforded by the image processor enables continuous full-resolution – 16MP shooting up to 6 fps, a maximum shutter speed of 1/6000th of a second.

Big Pixels: 23 µm²(Pentax K-50) vs 15.3 µm²(Nikon D5200) – Pixel size measured in µm2 is the area of a singular pixel in the sensor. Bigger pixel leads to better pictures in higher ISO rates.
Image Stabilization: Pentax K-50 features In-body Image stabilization, No IS available in Nikon D5200.

AF System
Nikon D5200 features advance AF system, 39-point autofocus system, with nine cross-type sensors.
Pentax K-50 features a 11 points AF system with nine cross-type sensors.
Video:
Nikon D5200 offers better video recording options and 60fps shooting speed at Full HD.
Pentax K-50 limited to 30fps at Full HD.
Shutter
Pentax K-50 features fast continuous shooting speed, (5fps vs 6fps).
Pentax k-50 features more shutter range compared to D5200. (1/6000 vs 1/4000).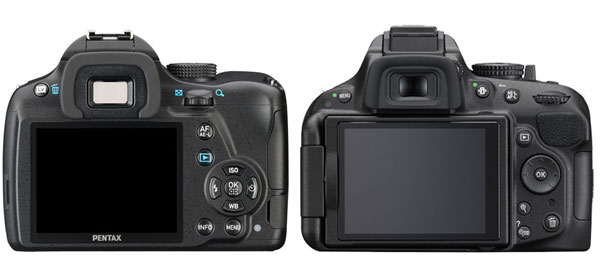 Display:
Both have same display size and screen resolution, but Nikon D5200 features Vari-angle display that swivels to nearly any position, pentax K-50 comes with fixed display unit.
Viewfinder: Pentax K-50 features Pentaprism (100%) viewfinder and Nikon D5200 features Pentamirror (95%), Pentax K-50 features bright and better viewfinder.
Verdict:

Highly Recommended: Based on Specification Comparison, If you are a Still+Video shooter we recommend you to buy Nikon D5200. Nikon D5200 features more megapixel, Advance AF system and better Video mode.


Recommended + If you are a still shooter(only) you can buy Pentax K-50. Pentax K-50 features better low light performance (High ISO range + In camera IS), better shutter speed and Fully Weather-Sealed Body Design,  the 3 Major drawback of Pentax K-50 compared to D5200 is – less megapixel, low-end AF system and limited video mode.

Price / Buying options |
Pentax K-50 available at $700+ at Amazon | B&H
Buy Nikon D5200 from Amazon | | Amazon UK