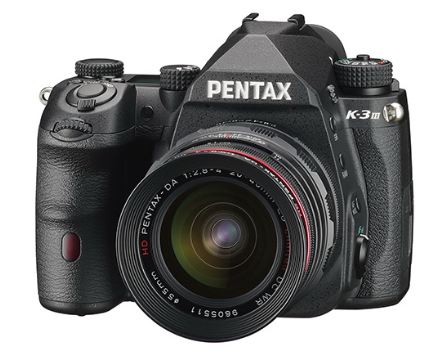 Finally, Pentax announced the development announcement of the Pentax K-3 III DSLR camera, According to Pentax, the camera will become official on Feb of 2021. Take a look at the development announcement of the Pentax K-3 III camera.
Pentax K-3 III Development Announcement
Ricoh Co., Ltd. (President: Yoshinori Yamashita) and Ricoh Imaging Co., Ltd. (President: Shinobu Takahashi) are currently developing new digital single-lens reflex camera products that will become the APS-C flagship.
The name of the new product currently under development has been decided to be "PENTAX K-3 Mark III", and it is the intrinsic value of a single-lens reflex camera as a product that embodies the "PENTAX STATEMENT" * previously published on the Ricoh Imaging website. It is expected that many people who are particular about photography and enjoy photography as a lifelong hobby will become a camera with functions and performance that allows them to enjoy the shooting process. When we exhibited this product for reference at the fan event "PENTAX Meeting 100th Anniversary Special" held last year, we mentioned that we are aiming to release it in 2020, but we are currently in the final stage of development. We are welcoming you. In the future, we plan to complete development and prepare a system for mass production, but since it will take some time before it is released, we would like to inform you of the specifications that can be announced at this time. We will inform you about the official announcement and release date as soon as it is decided.
We also released a new message video about this product on our website today.
Please look forward to the introduction of Pentax's new digital SLR camera, which will continue to challenge the future of SLR cameras.
Product overview under development
product name
Release date
price
PENTAX K-3 Mark III
Under
development aiming for the world premiere show "CP + 2021" (Pacifico Yokohama) of cameras and photographic images scheduled to be held from February 25 to 28, 2021
Undecided
* : [PENTAX STATEMENT (5 determinations for us to be us]
・ I like photography, so I build a camera.
・ Ideal for a camera that can take pictures in a dialogue.
・ We are particular about cameras that allow you to enjoy the shooting process.
・ Challenge areas that cannot be measured numerically.
-Use the user's "photo experience" as an asset.
Pentax K-3 III Full Specification
Click here to see Pentax K-3 III full specifications PDF
We have told you before that Pentax may announce their new APS-C DSLR camera with Sony IMX571 26 MP BSI CMOS Sensor.  We will update you soon as we get any new information.
Get LIVE RUMORS –> FACEBOOK | TWITTER |  INSTAGRAM, Or subscribe us via Email or Push Notification You Can also Download our Android App for live news + Pentax rumors 24X7