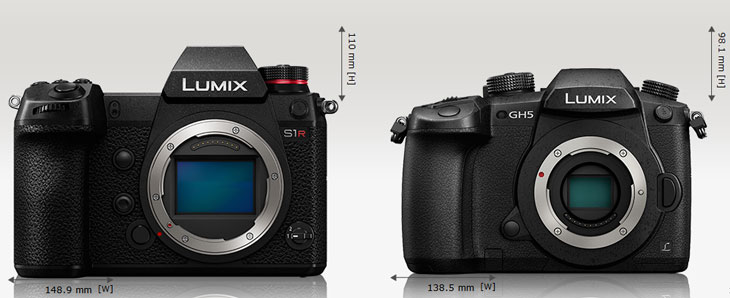 With very limited video specification Panasonic completed the development announcement of the Panasonic S1H camera. The camera is still under development process and lot of specs remains unconfirmed. However, Panasonic does confirmed all of us that the upcoming camera will capture 6K video without crop and which is of-course a groundbreaking thing.
Panasonic S1H vs Panasonic GH5, take a look at quick specification comparison between the Panasonic S1H and the Panasonic GH5.
Panasonic S1H
Panasonic GH5
 TBA (Most probably 24.2MP Full-Frame MOS Sensor)
20.3MP Digital Live MOS Sensor
Venus Engine Image Processor

6K 24fps (3:2 aspect ratio, No Crop)

5.9K 30fps (16:9 aspect ratio)

4K Video with No Crop
4K DCI & UHD 4:2:2 10-bit 60fps
Internal 4:2:2 10-Bit 4K Video at 24/30p
Sensor-Shift Image Stabilization
5-Axis Sensor Stabilization; Dual I.S. 2
5.760K-dot 120Hz OLED EVF
0.76x 3.68m-Dot OLED Viewfinder
3.2″ triaxial Touchscreen tilting LCD
3.2″ 1.62m-Dot Free-Angle Touchscreen
 Price (Body Only) $4000 (approx)
  $1497
So, right we have only the video specification of the camera. And it's look very impressive compared to Panasonic GH5.
With Panasonic S1H you get a option to record 4K videos at 24 fps, but the aspect ratio is 3:2. So If you record high resolution videos for production purpose than u have to use 5.9K @30fps which gives you standard 16:9 aspect ratio.
One more thing you are getting in Panasonic S1H is you can record 4K video recording mode 4:2:2 10-bit 60fps.
Additionally you are also getting larger sensor area so details will be great as well as low-light performance is also expected to be better than of M4/3s sensor.
So, overall Panasonic S1H do have a upper hand when we talk about video recording modes. but is will cost you 2X and more
No information about bit-rates and ISO range in still and video mode available for now. We will update this specs once we will get the full specification of the camera officially from Panasonic.
Panasonic GH6 will also get goodness of S1H, but not so soon. We have to wait till next year.