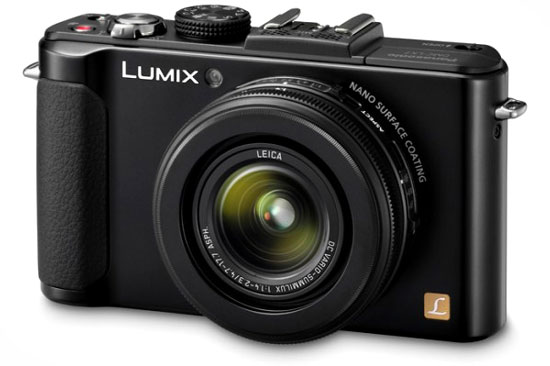 The Panasonic LX7 is a pro compact camera with a bright, 24-90mm equivalent f/1.4-2.3 lens, the LX7 features a 10.1-megapixel, 1/1.7-type MOS sensor, newly developed fast  Venus Engine VII FHD processor that enables ISO range of 80-12,800. The LX7 help you to take over the full manual control over aperture range via real dial, the camera also features a built-in ND (neutral density) filter for pro-users.
Major Features
 1/1.7″ 10.1MP MOS Sensor
ISO 80-2800
RAW and RAW+JPEG Recording Options
Venus Engine Image Processor
Leica DC Vario-Summilux 24mm Lens
3.8 Optical Zoom Lens
3.0″ 920K-Dot LCD with Auto Brightness
Full HD 1080 Video Recording
Trust iA and iA Plus Modes
Creative Control Modes
Time Lapse Shot Function
The LX7 camera is capable of shooting 1920×1080 50p Full HD movies with Dolby Stereo audio recording,  Time Lapse Shot Function is a nice addition the LX7, allowing you to easily create time lapse images without connecting to laptop or PC, LX7 also offers a wide range of Optional Accessories, external flash, an external view finder and multiple filters are all available for Panasonic Lumix LX7 compact camera.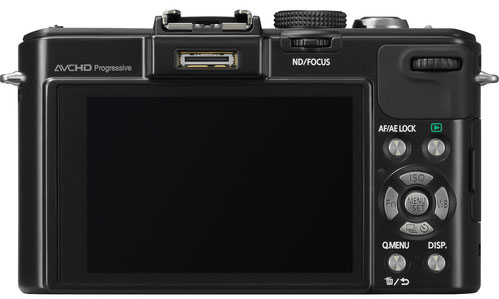 See Sample Images of Panasonic LX7
The New Creative Digital Compact Camera DMC-LX7
Featuring LEICA DC VARIO-SUMMILUX Lens with F1.4 – F2.3 Full-range Brightness
For the True Enthusiasts of Photography
Panasonic is proud to announce the new premium digital compact camera DMC-LX7 from the world-renowned LX series which have been long acclaimed by the photography enthusiasts for its high picture quality and creative descriptiveness. The new DMC-LX7 is fully re-designed in the lens, the image sensor and the image processing engine together with other improvements and upgrades.
The newly developed LEICA DC VARIO-SUMMILUX lens features F1.4-F2.3 outstanding brightness at 24-90mm versatile zoom range (35mm camera equivalent). This stunningly bright lens is the extraordinarily rich amount of light can give impressive expression to the image by reproducing exquisite gradation and mellow defocus. Panasonic's Black Box Nano Surface Coating technology minimizes light reflection that causes ghost and flare, which help boasting stunning, true-to-life images with outstanding resolution and detail. The POWER O.I.S. (Optical Image Stabilizer) is improved in the correction accuracy. The newly developed 10.1-megapixel high sensitivity MOS Sensor achieves the expansion of dynamic range by increasing the sensitivity and the saturation. In synergy with the performance of F1.4 bright lens, the DMC-LX7 assures astonishingly high picture quality even in low light situations. The Light Speed AF catches the most fleeting shooting opportunities.
The external design is also improved to achieve even higher operability and to control the rich light source that DMC-LX7 can gain. The aperture ring allows direct, intuitive control of aperture and the internal ND filter makes it possible to reduce light to use slower shutter speed. The DMC-LX7 also newly integrates Level Gauge. The 3.0-inch large 920,000-dot high resolution Intelligent LCD is also redesigned to offer remarkable visibility under virtually any circumstances. The hot shoe allows attachment of advanced accessories such as optional Live View Finder which helps shooting under strong daylight with high visibility.
In addition to the full manual control, wide variety of shooting options such as 16 filters of Creative Control and Photo Style are integrated to look photo and video even more true to the photographer's creative intention together with the popular Time Lapse shot recording function.
The DMC-LX7 records 1,920 x 1,080 60p (NTSC) / 50p (PAL) full-HD video recording in AVCHD Progressive / MP4* with high quality stereo sound. The 3.8x optical zoom and manual control are also available in video recording to make the video more attractive.
Leading the expressive possibility of compact cameras to even higher dimension, the DMC-LX7 totally defies the stereotype of what the pocket-sized camera can do for the professionals and high amateurs, or step-up users this time again.
* 30p (NTSC) / 25p (PAL) in MP4 recording.
1. The F1.4 Super Bright 24mm Ultra-Wide-Angle
High Quality LEICA DC VARIO-SUMMILUX Lens and Nano Surface Coating
The DMC-LX7 is equipped with newly developed 24mm ultra-wide-angle LEICA DC VARIO-SUMMILUX lens with 3.8x optical zoom (35mm camera equivalent: 24-90mm). This supreme lens features outstanding F1.4 brightness at wide-end and even F2.3 at tele-end. The F1.4 lens is about 400% as bright as the F2.8 lens, itself generally considered a bright lens. The extraordinarily rich amount of light allows not only using higher shutter speed to capture stunningly clear, sharp, blur-free images in lower lighting situation, but also giving impressive expression to the image by reproducing exquisite gradation and mellow defocus – to elevates the possibility of photography to the unprecedented level. The lens unit consists of 11 elements in 10 groups with 5 aspherical lenses with 9 aspherical surfaces including the dual-sided aspherical surface ED (Extra-low Dispersion) lens which has never been adopted to any LUMIX digital compact cameras nor interchangeable lenses. Chromatic aberration is well compensated by the characteristic mechanism of ED lens while other distortions are corrected with the attribute of aspherical lens at the same time. The result is high resolution image with minimal distortion and artifacts such as chromatic aberrations, ghosting and flaring.
This advanced lens also makes it easy to produce beautiful photos with pleasing soft-focused background thanks to the shallow depth of field provided by the extra light. With the Nano Surface Coating technology, light reflection is dramatically minimized at entire visual light range (380nm-780nm) by applying the extra-low refractive index coating with nano-sized structure on the surface of the lens. Also, the 24mm ultra wide angle lens gives photographers a wider range of composition possibilities. The LX7 captures approx. 136% larger viewing space compared to that 28mm wide angle camera does. The super-high-quality LEICA DC VARIO-SUMMILUX lens minimizes distortion at the wide end, so users can get stunning, true-to-life images with outstanding resolution and detail.
Thanks to the Intelligent Resolution technology, the Intelligent Zoom is available with the LX7 which extends the zoom ratio to 7.5x equivalent maintaining the picture quality even combining a digital zoom. For image stabilization, the POWER O.I.S. (Optical Image Stabilizer) is integrated to suppress hand-shake vibration effectively in shooting using slow shutter speed.
In addition, the internal ND filter makes it possible to reduce the light to use slower shutter speed by 3 steps. Also, the iris diaphragm allows the users to adjust aperture at fine steps manually.
2. Newly Designed 1/1.7-inch 10.1-megapixel* High Sensitivity MOS Sensor
with Wide Dynamic Range
The DMC-LX7 adopts new 1/1.7-inch 10.1-megapixel* MOS Sensor that features improvement in S/N ratio by 1.5 dB compared with the predecessor DMC-LX5**. The result is a high resolution image with stunning clarity not only in high sensitivity recording but also in low ISO setting reproducing rich gradation with the exquisitely wide dynamic range even when the situation is highly contrasted.
The high performance image processor Venus Engine also boasts advanced signal processing. The Intelligent NR system keeps the resolution high by optimizing the NR process to be applied on each part of an image. The Multi-process NR quickly detects brightness in each part of a picture and applies optimum noise reduction in multiple steps.
The high speed digital signal output technology is integrated to realize high speed consecutive shooting at 11 fps in full resolution with mechanical shutter and 5 fps with continuous AF and to record full-HD 60p (NTSC) / 50p (PAL) smooth video. It also contributes to the high speed Light Speed AF to catch the most fleeting shooting opportunities.
* Camera effective pixels.
** Panasonic in-house comparison with DMC-LX5.
3. Enhanced Operability and Unlimited Possibility for Expression
Full manual control is available with DMC-LX7 for advanced users to enjoy more creative photography. With its P/A/S/M mode, photographers can enjoy creative shooting expressing their intention not only in photo but also in video.
The DMC-LX7 is studied further to precisely control the rich light source with newly equipped aperture ring, internal ND filter, focus lever and rear dial. The internal ND filter allows opening aperture to get visible defocus even under sunny outdoors while suppresses halation or using slower shutter speed to express the flow or splash of water. The Level Gauge is newly added for DMC-LX7 to detect the horizontal / vertical angle of view with its internal level working with the acceleration sensor. This is helpful to keep horizontal composition even when shooting in high or low angle.
The popular Creative Control mode is incorporated to the DMC-LX7 by adding 2 exclusive filters – Radial Defocus and Smooth Defocus in addition to Soft Focus*, Dynamic Monochrome, Impressive Art, One Point Color, Cross Process, Low Key, Toy Effect, Star Filter*, Expressive, Retro, High Key, Sepia, High Dynamic, Miniature Effect** mode to be 16 in total. The Radial Defocus adds defocus effect radially from the light source while the Smooth Defocus makes the defocus figuration even smoother. Some parameters in each mode can be also adjustable. Photo Style is also available for the expression of finer nuance with Standard, Vivid, Natural, Monochrome, Scenery, Portrait and Custom preset options.
Plus, with the Time Lapse Shot, once the start time, the interval and the number of picture to shoot are set, the camera automatically record images. You can leave the camera and get a record of stationary observation for subjects such as flowers coming into bloom, scudding cloud, wild animals in nature.
The P (Program AE) mode in the DMC-LX7 has 2 options – Fully Open Aperture mode and Resolution Priority mode. In the Fully Open Aperture mode, the camera opens aperture fully to visibly defocus the background. In Resolution Priority mode, internal ND filter is effectively used to draw the best resolution performance of the camera.
The DMC-LX7 has advanced functions that will satisfy experienced photographers, yet is easy and comfortable to be used by beginners with its iA (Intelligent Auto) and iA Plus mode. In addition to the popular iA functions – POWER O.I.S., AF Tracking, Intelligent D-range Control, Intelligent Scene Selector, Face Recognition, Intelligent ISO Control, Intelligent HDR (High Dynamic Range), Intelligent Handheld Night Shot and Motion Deblur*** mode –, the iA Plus mode lets users adjust defocusing area in the background, exposure compensation and white balance for more flexible control.
The DMC-LX7 is equipped with new 3.0-inch, 920,000-dot Intelligent LCD with super high resolution and a wide viewing angle. The screen brightness automatically adjusts in 11 steps as the surrounding brightness level changes, ensuring easy visibility at all times. The big screen reflects fine details, making it easy to check the focus before shooting. It also serves as a small photo and video viewer, allowing the user and friends to enjoy viewing the still and motion images together.
* For photo only.
** Sound will not be recorded with [MINIATURE EFFECT] and approximately 1/10 of the time period is recorded. (If you record for 10 minutes, the resulting motion picture recording will be approximately 1 minute long.)
*** The picture size may be reduced.
4. The 1,920 x 1,080 60p (NTSC) / 50p (PAL) Full-HD Video Recording
in the AVCHD Progressive Format and MP4*
The LUMIX DMC-LX7 is an advanced photographic tool for recording not only great photos but also beautiful full-HD videos. The DMC- LX7 can record high-resolution full-HD 1,920 x 1,080 60p (NTSC) / 50p (PAL) videos in AVCHD Progressive (MPEG-4 / H.264) format. The AVCHD Progressive format excels in the compatibility with AV equipment like HDTVs or Blu-ray Disc players and the video can be played back by just inserting an SDXC/SDHC/SD Memory Card or by connecting with mini HDMI cable. A special, separate button on the top lets the user instantly start recording videos while shooting photos without having to make any extra settings. Alternately, user can choose MP4 at 30p (NTSC) / 25p (PAL) for video recording, which has higher compatibility with PCs.
The 3.8x optical zoom with step zoom function and POWER O.I.S. is available in video recording, too. The videos also come with the high-quality stereo sound of Dolby® Digital Stereo Creator, to offer highly realistic sound to the motion images. The stereo microphone comes with zoom noise reduction system, and the Auto Wind Cut function blocks out most of the noise from background wind. The iA (Intelligent Auto) and iA Plus mode are also available in video recording.
The DMC-LX7 goes further than simply recording HD videos. Apart from the video recording capability of conventional digital compact cameras, the DMC-LX7 also features a Creative Video mode, which lets the user set the shutter speed and aperture manually to make even more impressive videos. Changing the shutter speed brings special effects to videos, which is especially suitable for shooting fast-moving subject. The ability to control the aperture is convenient when there are several subjects at different distances and it is desired to have each of them stand out. High speed MP4 video recording at 120 fps (NTSC / HD)** / 100 fps (PAL / HD)** is also available for recording the trajectory of subject with ultra fast motion.
* 30p (NTSC) / 25p (PAL) in MP4 recording.
** The recording format is 30p (NTSC) / 25p (PAL).
[For NTSC Areas]
• Maximum time to record motion pictures continuously with [AVCHD] is 29 minutes 59 seconds. (excluding when [SH] is set.)
• Motion pictures in [MP4] can be recorded continuously for up to 29 minutes 59 seconds. Also, motion picture recorded continuously in [MP4] is up to 4 GB.
[For European PAL Areas]
• Motion pictures can be recorded continuously for up to 29 minutes 59 seconds in European PAL areas. Also, motion picture recorded continuously in [MP4] is up to 4 GB.
5. Rich Options for Expandability
The DMC-LX7 offers a wide variety of options to choose from to match every shooting situation and shooting style. The hot shoe on the top accepts the optional tilt-shift Live View Finder (DMW-LVF2) of approx. 0.7x*, 1,440,000-dot equivalent, 100% field of view, which ensures comfortable monitoring even under the strong daylight.
Live View Finder: DMW-LVF2
External Optical View Finder: DMW-VF1
Filter Adaptor: DMW-FA1 NEW
MC Protector: DMW-LMCH37
ND Filter: DMW-LND37
PL Filter: DMW-LPLA37 NEW
External Flash: DMW-FL220 (GN22) / DMW-FL360 (GN36) / DMW-FL500 (GN50)
Genuine Leather Case: DMW-CLX7 NEW
Battery Pack: DMW-BCJ13
* 35mm camera equivalent.
6. Other Features
– RAW and RAW+JPEG data recording option
– Aspect Bracket / White Balance Bracket
– HDR (High Dynamic Range) mode
– Panorama Shot mode
– 3D Photo mode
– Creative Retouch