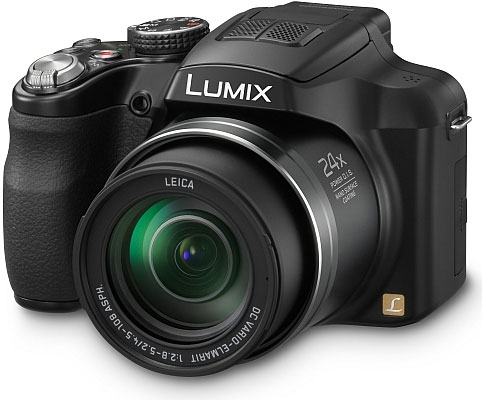 The Panasonic Lumix FZ62 features 16 Megapixel sensor, 24X optical Zoom Lens, Full HD video recording, the FZ62 can shoot at up to 10fps in 16.1-megapixel full resolution (5fps with continuous AF), in some markets around the world, the camera will be sold under the name Panasonic Lumix DMC-FZ60.
Major Features
16.1MP High Sensitivity MOS Sensor
LSI Venus Engine Image Processor
Leica DC Vario-Elmarit 24x Zoom Lens
25-600mm Optical Zoom Lens (Equivalent)
3.0″ 460,000-dot Intelligent LCD Display
POWER O.I.S. (Optical Image Stabilizer)
Full HD 1080 60i Video Recording
Creative Control Feature
Intelligent Auto Mode
Full Manual Override
Buy Panasonic Lumix FZ62 / FZ60 B&H Store
Panasonic Press Release
Panasonic introduces new Super-Zoom Digital Camera LUMIX DMC-FZ62 featuring a High Quality 24x Optical Zoom Lens1 and Full HD Video Recording
This summer, Panasonic is pleased to welcome a new addition to its award winning range of LUMIX cameras. The 16 megapixel DMC-FZ62 boasts a powerful 24 x optical zoom and superior controllability including manual operation and full-HD video recording capability. With a 25mm ultra wide angle lens and 3.0-inch Intelligent LCD, which has 460,000-dot high resolution, the FZ62 offers exceptional creative freedom – perfect for beginners through to serious photographers
Outstanding Image Quality
The high quality 25mm ultra wide-angle LEICA DC VARIO-ELMARIT lens benefits from Panasonic's Black Box Nano Surface Coating technology, to minimize light reflection that causes ghost and flare. Whilst the powerful 24x optical zoom makes it easy to capture family or group portraits as well as expansive landscapes or action packed sports shots.
The lens unit comprising 14 elements in 10 groups, including 3 ED lenses and 2 aspherical lenses with 3 aspherical surfaces, ensures an outstandingly compact body while passing Leica's stringent standards to deliver exceptional optical performance, suppressing distortion at wide end and colour bleeding at tele end.
Superb Clearness
The DMC-FZ62 features a newly developed 16.1 megapixel high sensitivity MOS sensor and together with the high performance image processing LSI Venus Engine, it elevates the response, sensitivity and image quality of the camera. Thanks to the high speed digital signal output technology, the FZ62 can now shoot 10 fps in 16.1-megapixel full resolution2 with mechanical shutter and 5 fps with continuous AF. Accompanied with the quick start-up time of approx. 0.9 sec, the DMC-FZ62 never misses the most fleeting shooting opportunities. High energy efficiency, which is also a feature of Venus Engine, extends battery life by approx. 12% compared with its predecessor, making it possible to shoot 450 pictures per a single charge (CIPA).
Making Photography Easy
Everyone wants to take eye-catching images at the click of a button, which is why Panasonic developed the Intelligent Auto mode. This includes POWER O.I.S (Optical Image Stabiliser) with Active Mode and the Motion Deblur mode3, which helps prevent blurring from handshake even in low-lit situations such as indoor or night photography. With AF tracking, the FZ62 can lock onto any subject and keep it in focus even if it moves – making it easy to get beautiful, clear shots. The Intelligent Scene Selector automatically switches to the appropriate mode according to the subject. Human faces are captured in focus using appropriate exposure with the Face Recognition. The Intelligent ISO Control reduces motion blur by adjusting the ISO sensitivity and optimising the shutter speed if the subject moves as the shot is taken.  Intelligent D-range Control optimises the lighting of each part of an image, preventing blocked shadows and blown highlights. Additional settings include Intelligent Handheld Night Shot and Intelligent HDR (High Dynamic Range). These features can all be accessed simply by activating iA mode, giving users the confidence to capture clear, beautiful, mistake-free photos with ease.
iA Plus mode is also newly added to the FZ62 which enables users with defocus control, exposure compensation and white balance adjustment whilst using iA mode.
Creative Photography
While offering iA mode for beginners, the FZ62 also responds to the desires of more advanced users. In addition to the P/A/S/M modes, each user can capture their intended images not only in photo but also in video, by utilising a wide variety of shooting options such as Creative Control or Photo Style with a wide variety of preset options.
The popular Creative Control mode has been upgraded, with 8 new filter option: Soft Focus4, Dynamic Monochrome, Impressive Art, One Point Color, Cross Process, Low Key, Toy Effect and Star Filter are added to the conventional Expressive, Retro, High Key, Sepia, High Dynamic and Miniature Effect5, making a huge 14 modes in total.
Record in 1,920 x 1,080 Full-HD in AVCHD / MP4 Format
The LUMIX DMC-FZ62 is an advanced photographic tool for recording not only great photos but also beautiful full-HD videos. With stunning 1920×1080 50i Full HD video recording, Dolby Digital audio and recording options available in AVCHD Progressive and MP4, you get the widest compression and compatibility options.
From outdoor events to indoor photograph, the DMC-FZ62 powerfully supports recording those spur-of-the-moment memories in high quality photo and video.