Panasonic GX7 vs Panasonic GH3, , should you buy the new GX7 or 1 year old GH3, find out your answer now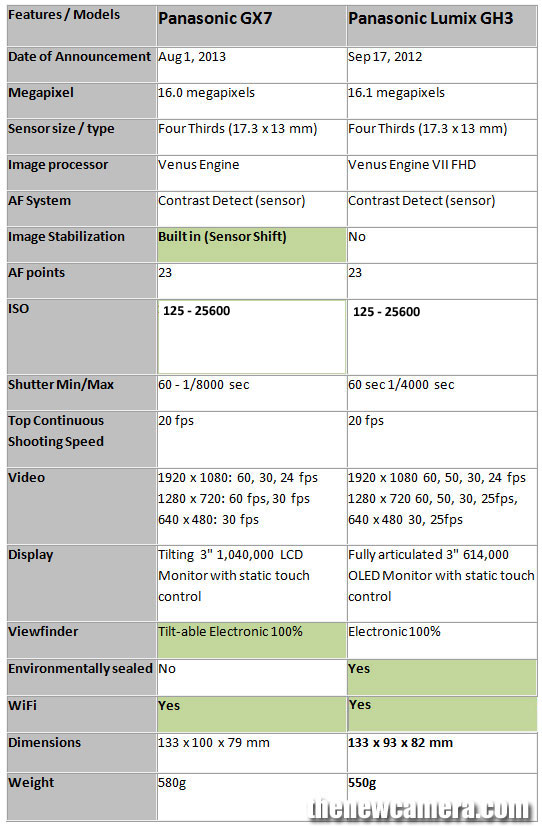 Sensor: The Panasonic GX7 features a newly developed 16 megapixel Micro Four Thirds Digital Live MOS sensor and Venus Engine image processor, GX7 ISO range is expandable upto to ISO 25600, Same as Panasonic GX7. Panasonic GH3 also features 16.05MP Digital Live MOS Sensor with 4-CPU Venus Engine, the ISO range is expandable upto to ISO 25600.
Image Stabilization: Panasonic GX7 MEGA O.I.S. in-camera image stabilization helps to minimize blur in low light situation, or when you have lenses that doesn't support optical IS.  No In camera Image Stabilization available in GH3.
Top Continuous Shooting Speed: The GX7 features 5 fps in full resolution, 40 fps using an electronic shutter, and continuous shooting at 4.3 fps with full-time AF., The Panasonic GH3 also features Top Continuous shooting speed of 20 fps (with electronic shutter).
Video: Panasonic Gh3 and GX7 features same frame rates for video recording.

Display: Panasonic GX7 comes with a 3.0″ 1,040k-dot tilting Cell Touch LCD Display unit, Panasonic GH3 comes with 3.0″ 614k-Dot Free-Angle OLED Monitor.
Viewfinder: Panasonic GX7 features a 2,764k-dot resolution and approx. 100% color reproduction 90° upward tilting mechanism viewfinder. Panasonic GH3 comes with fixed 1744k-Dot OLED Live View Finder.
Weather Sealed Body Panasonic GH3 features Weather Sealed Body, Panasonic GX7 is not Weather Sealed.
Price: Panasonic GH3 (body only) will cost $300 + compared to the new GX7
Size: Panasonic GX7 is small and have bigger handgrip, better overall design compared to GH3.
Verdict:  We highly recommend you to buy new Panasonic GX7 camera, since the GX7 features bit advance core specification then GH3 and comes at low price.
Buy Panasonic GX7 from Amazon and B&H
Buy Panasonic GH3 from Amazon