Take a look at the high ISO test comparison between the recently announced Panasonic GH5S Compared to the Sony 7s II camera. Panasonic GH5S as does arrived with lot of improvements inside camera. But, overall look and design of the camera in same except the addition of some red colours in the front or top of the camera. Images shown below credit belongs to imagine resource.com.
we are going to test Image Noise between the Sony A7 S II and Panasonic GH 5S camera
Sony A7 S2 camera using a 3+ year old Sony A7S sensor . The sensor used inside Sony A7SII camera is based on FSI technology not BSI. FSI means front side illumination and BSI means backside illumination (and of course the BSI is better). Sony A7 RII was the first camera to use the BSI full frame sensor and Sony A9 is the first camera to use stacked CMOS full frame sensor. So, lot of tech improved after the announcement
Panasonic announced a low light dedicated GH5S (series) just similar to the Sony A7S II camera but Panasonic should also know that the Sony A7 S II camera is 3 years old and desperately waiting for an update. And we do also believe that this year Sony will going to announce Sony A7 S II camera with at least BSI or stacked CMOS sensor inside it, that will going to uplift the over specification as well as low light performance of the camera to a next level
Before we begin let me tell you that if you are our subscriber all reader, we have told you 3 months ago prior to the announcement of Panasonic GH 5S camera that it's coming. so do subscribe our website social networks and download our app for latest update live news and rumors.
Sony A7S II vs Panasonic GH5S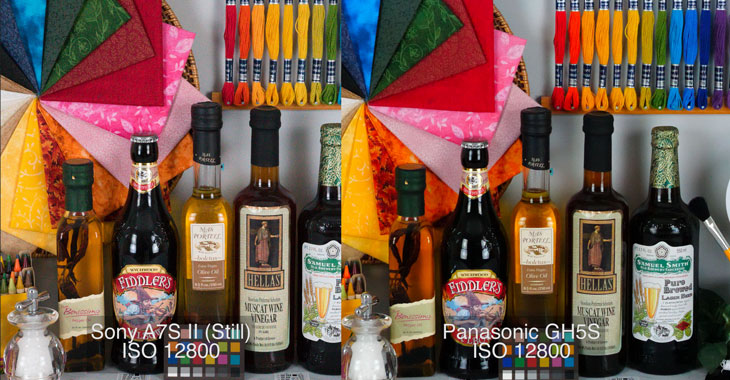 ISO 12800 Panasonic GH 5S is showing with more saturated colours compared to the Sony A7 S II camera but the noise levels minimal and images look somehow usable at this point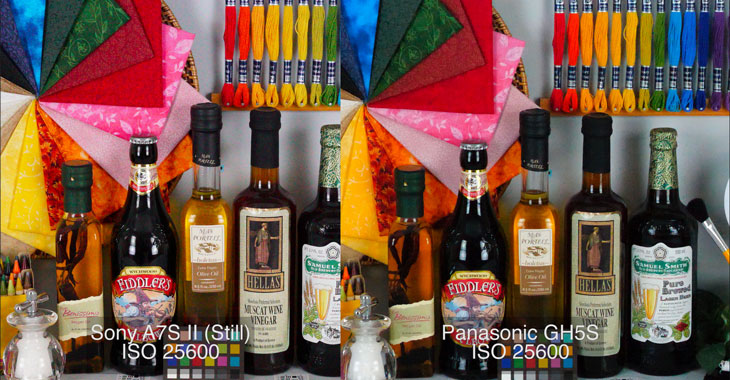 ISO 25600 is a point when you will notice the raise of noise level in the sample image of the Panasonic GH5s camera. But Sony A7S II sensor maintains the image quality without showing significant noise.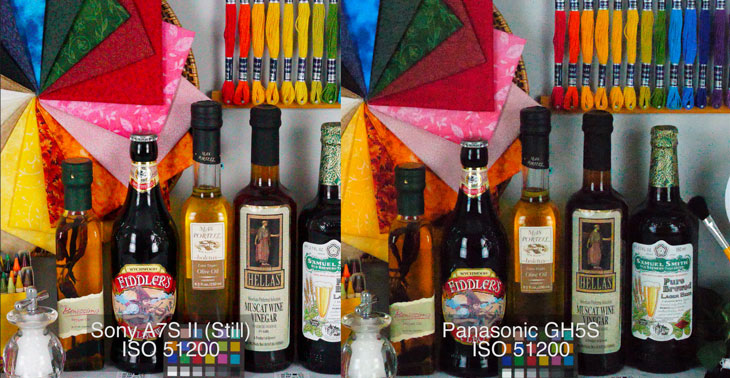 Look for shadow behind the bottles, the Panasonic GH5S s showing un-acceptable level of noise at ISO 51200.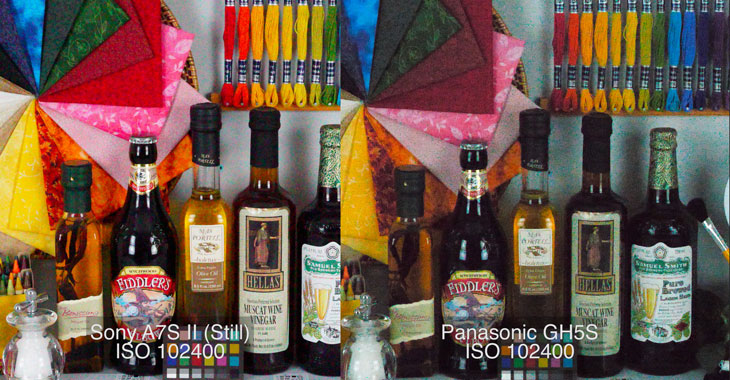 I have nothing to say. At this point both images are unusable, but GH5s is showing more noise compared to Sony A7S II camera.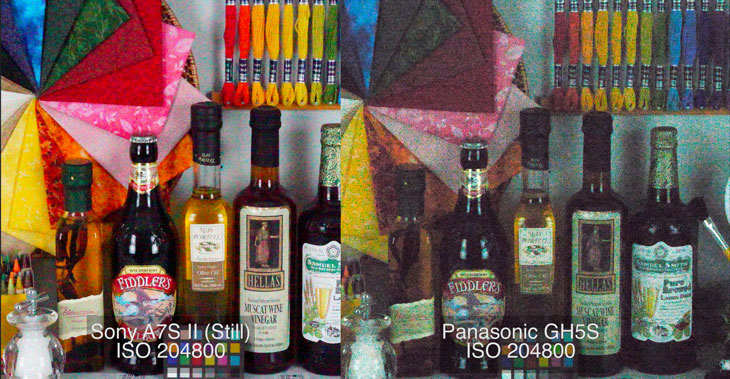 And finally the 204800. Why camera company unlocks such a noisy ISO levels ? too get good marks in specification sheet or for specification comparison engines ?
Panasonic GH5s vs Sony A7S II High ISO Test
Panasonic GH5S is showing more noise compared to Sony A7S III camera. And we have already posted the Video comparison of Panasonic GH5S vs the Sony A7S II here.