Real size comparison – Fuji have smaller body and big sensor
Panasonic GH4 vs Fuji X-T1, the X-T1 is flagship camera from fuji and Panasonic GH4 is a flagship camera from Panasonic, before we start the comparison I must say that Panasonic GH4 have better video capturing mode and resolution compared to X-T1.. but Fuji have very strong core specification for still shooters.. take a look below for more details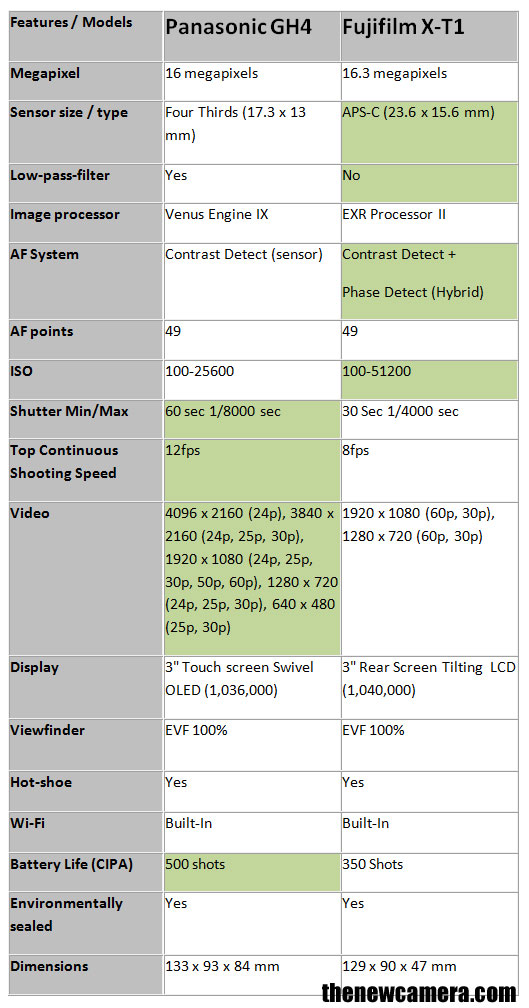 Sensor:
Fuji have bigger sensor, the APS-C sensor have more surface area to collect light compared M4/3 format based sensor, hence Fuji will give better image quality and more dynamic range due to bigger sensor size.
No Low-pass filter – Fuji features 16.3MP APS-C X-Trans CMOS II Sensor, the X trans sensor doesn't need a external low-pass filter hence it will produce sharper still images compared to Panasonic GH4 at 100%.

PDAF architecture – The Fuji X-T1 system have built-in phase AF points inside the sensor, due to PDAF technology the camera have HYBRID AF system inside, the Panasonic GH4 is limited to contrast based AF system.
ISO Range: Fujifilm X-T1 ISO range starts from 100 to 51200, the GH4 ISO range is limited to 25600 only.
From the above we conclude that Fuji X-T1 will produce better Image Quality and also have advance AF system than Panasonic GH4.

Video:
Professional 4K Video Recording in GH4 – The Panasonic GH4 records 4K video, 16:9 UHD 4K 3840×2160 video at 23.98p, 24p or 29.97p, and 17:9 DCI (Digital Cinema Initiatives) 4K 4096×2160 videos at 24p. with MOV, MP4, MPEG-4 AVCHD recording formats.
Fujifilm X-T1 is limited to Full HD Video recording with 60fps frame rate, recording format H.264, MOV.
Others
Shutter: Panasonic GH 4 have fast continuous shooting speed and shutter range.

Display: I like the display unit of Panasonic GH4 camera, the GH4 moves in multiple direction on the other hand X-T1 display unit have limited flexibility.
Both camera built with Magnesium Alloy metal, you get a Weather Sealed Body to shoot in all conditions.
Both camera have built-in wireless connectivity
Verdict: Fujifilm X-T1 have better Sensor and AF system, but Panasonic GH4 have 4K video recording option, for still shooters we highly recommend you to buy FujiX-T1 on the other hand Panasonic GH4 is recommended for Videographers.