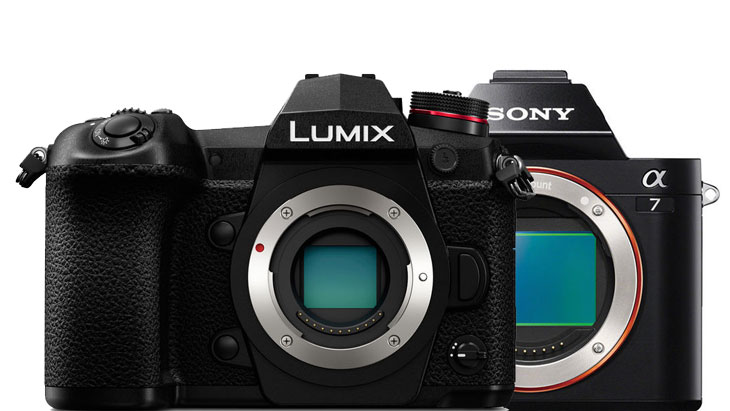 We are comparing recently announced Panasonic P9 camera along with the Ultra popular Sony A7 full frame mirrorless camera
let's talk about the difference between the two camera
One of the biggest difference between the both camera is the sensor size
Panasonic G9 camera features 2x smaller sensor, Sensor size is one of the biggest difference between these two camera, but at the same time the Sony A7 is approx 4 year old and waiting for an update desperately
| | | |
| --- | --- | --- |
| Features / Models | Panasonic G9 | Sony A7 |
| Megapixel | 20 Megapixels | 24.3 Megapixel |
| Sensor size / type | Four Thirds (17.3 x 13 mm) | Full-Frame |
| Image processor | Venus Engine 10 | BIONZ X |
| Low pass filter | No | Yes |
| Image stabilization | 5-Axis Sensor Stabilization; Dual I.S. 2 | No |
| AF System | Contrast detect sensor | Phase AF |
| AF points | 225 | 117 |
| ISO | 100-25600 | 50-25600 |
| Shutter Min/Max | 60 1/32000 s | 30 – 1/8000 |
| Top Continuous Shooting Speed | 20 fps | 5 fps |
| Video |  4K @ 60p | Full HD 60P |
| Display | 3.0″ 1.04m-Dot Free-Angle Touchscreen | 3.0″ Tiltable TFT LCD with 921.6K-Dots |
| Hot-shoe | Yes | Yes |
| Battery Life (CIPA) | 400 shots | 340 |
| Wireless connectivity | Built-In | Yes |
| Weather sealed  | Yes | No |
| Dimensions  | 137 x 97 x 92 mm | 127.0 x 94.0 x 48.3 mm |
| Weight | 658 g | 415.89 |
Sensor
Both camera will going to give you approx same ISO range that is from 100 to 25600. with Sony A7 you can dip a bit more, you can push the value of base ISO to 50 with your sony A7 camera.
So, in sensor size is still the Sony A7 clearly wins
AF System
Now you are going to talk about the auto focusing system about the camera
Panasonic G9 features DFD auto focusing system that features 225 auto focusing points that can be customisable by the user in short the Panasonic is using contrast detect a system with a dedicated piece of hardware inside the camera and with all that they are achieving focusing speed of 0.04 second which is quite insane compared to the Sony A7 camera.
Where is the Sony A7 camera is remains limited to 117 point autofocus system.
So if we compare the auto focusing system of both the camera then Panasonic G9 clearly wins.
Continuous shooting speed
Continuous shooting speed of Panasonic G9 is approx 20 frames per second. The Sony A7 camera remains Limited 5 frames per second
So, if you are looking for a perfect sports camera then Panasonic G9 is the clear winner with 15 extra frames per second.
Battery life is one of the biggest issue for every photographer, Panasonic G9 will going to give you 400 shots of battery life where as the Sony A7 going to Limit your creativity to 340 shots. So, again Panasonic G9 clearly wins here.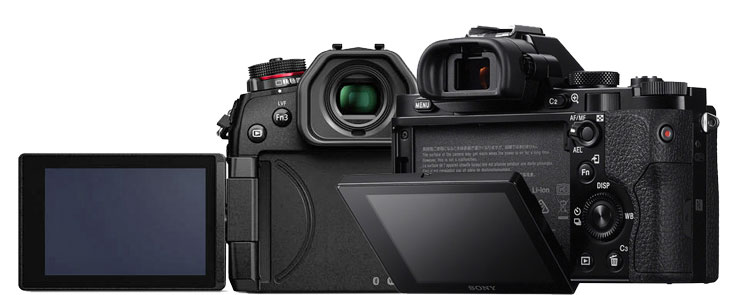 Rear LCD and Viewfinder
Now you are going to talk about that touch screen off the camera Sony A7 series camera doesn't have any touch screen and Panasonic G9 do have if you are going to talk about the resolution then also Panasonic G9 gives you more resolution in the rear LCD display screen compared to the Sony A7 camera. Panasonic G9 also features higher resolution viewfinder compared to the Sony A7.
Top LCD Screen
The top LCD screen of Panasonic G9 is one of the biggest attraction of this camera. Just like any professional DSLR camera you are going to get the full information of settings inside the top LCD screen of the camera. No Sony A7 series mirrorless camera offers top LCD display screen.
Pixel Shift Mode
Now you are going to talk about that pixel shift high resolution mode of the Panasonic P9 camera. Panasonic G9 camera is able to create 80 megapixel is still shots, This can be done with the help of built in image stabilization system and image stacking done by the sensor and the image processor itself. No such mode is available in Sony A7 camera.
Panasonic G9 also offers post focus mode,
Panasonic G9 features post focus mode you can select your focus point even after shooting of your subject. Sony A7 doesn't have such mode.
Panasonic G9 offers dual card slots
Panasonic G9 features Dual card slots, so once one card is filled the data automatically recorded to next card. but there is no such option available in the Sony A7 camera.
Price of Difference of Panasonic G9 vs Sony A7
Panasonic G9 Body Cost $1697 vs Sony A7 Body Price $998
Conclusion
Panasonic do offer a bunch of new tech inside it as we explained above and it is far advance than the Sony A7 Fullframe mirrorless camera. We highly recommend you to get Panasonic G9.