After the announcement of Panasonic FZ1000 we have started the analysis of core specification of both the camera, take a look at the specification comparison table below and High ISO test images…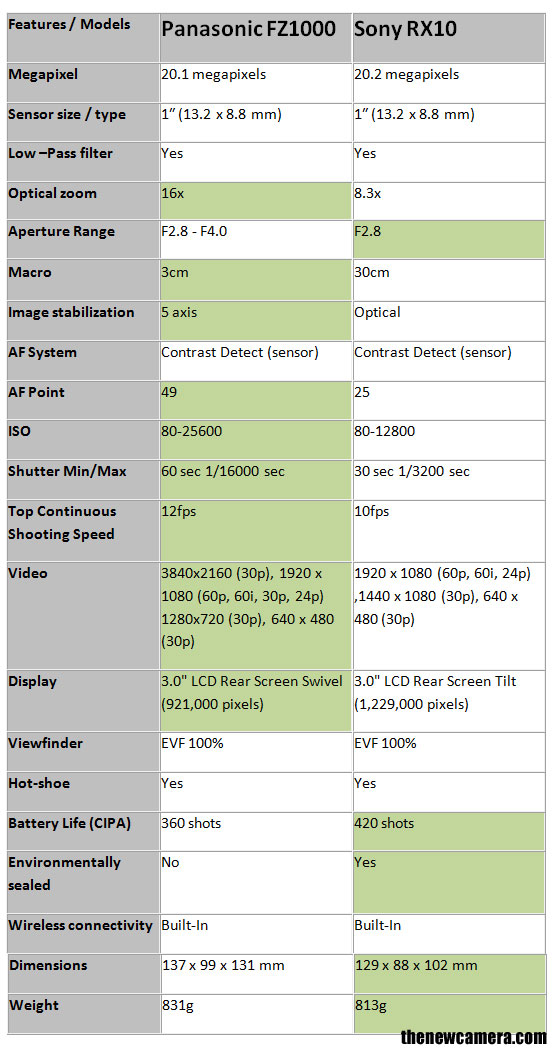 The Panasonic FZ1000 look too good on specification sheet, now let's talk in details.
Sensor: The sensor size and megapixel of both the camera is same, but the ISO range of Panasonic FZ1000 is more compared to Sony RX10, according to theoretical rules more ISO range do help to get cleaner low-light images.
Lens: The RX10 features a constant aperture F2.8 zoom lens, the RX10 lens is composed of 14 elements in 11 groups 7 Aspherical elements on the other hand the Panasonic FZ1000 comes with a variable aperture zoom lens F2.8-F4.0 that covers more range (16X compared to 8.3X optical zoom of Sony RX10), the lens is composed of 5 elements in 11 groups 5 Aspherical, 4 ED. At the end the Panasonic offers more optical zoom than Sony with bit loss of light, the High ISO test added at the end will clear all your doubts.
AF System: The AF system of Panasonic is bit advance compared to Sony RX10, the FZ1000 uses DFD (Depth From Defocus) technology, high speed focusing system shortens  focusing time and the FZ1000 lock its AF in 0.09 sec and 0.17 sec at the telephoto-end. on the other hand Sony RX10 takes 0.22sec AF time at wide and tele-end.
Shutter: The Panasonic uses HYBRID shutter system, the mechanical shutter range is 60 – 1/4000 sec and electronic shutter range is 1 – 16,000 sec, the RX10 uses mechanical shutter system only, range 30-1/3200.
Video: Panasonic FZ1000 can record 4K QFHD (3840 x 2160) video at 30p mode @ 100Mbps in the MP4 file format. Full HD 1080 video can be recorded at 60p, 30p, 24p, or 60i-in the AVCHD format, as well in the MP4 format. Sony RX10 is limited to Full HD 1920 x 1080 video recording @ 60p, 60i, and 24p. Full HD video can be recorded on AVCHD and MP4 format.
Weather-sealed construction – The Sony RX10 features Magnesium alloy top and front casings and weather sealed design helps you to shoot in any condition, no such weather sealed available in FZ1000.
High ISO Test
Image captured at base ISO, the Sony RX10 is showing bit more details in both the images (red leaf pattern is bit cearly visible in RX10).
At ISO 3200 both image look similar.
Verdict: Panasonic FZ1000 does have excellent core specification at a lower price tag you get advance AF system, 4K recording option, 5 axis based IS system and 3cm macro mode… Sony offers a fast lens with limited zoom and rugged body.
Buy Panasonic FZ1000 from Amazon | B&H | Adorama || Sony RX10 Available at Amazon |