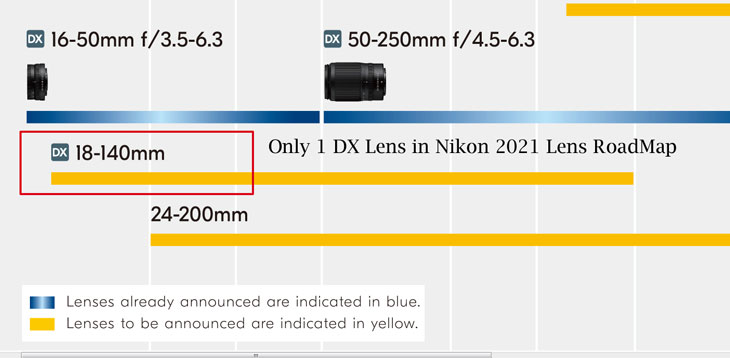 I am really amazed to see Nikon DX Lens road-map. They have only one lens in the road-map for now and that's really disappointing. If they really want to attract new users to their Mirrorless zone, they have a proper plan for that. So, if a new user accidentally buy's up the new Nikon Z50 (B&H) camera and if then he/she need a wide-angle zoom, macro or portrait lens . Then the only option is to buy Nikon DX DSLR lens and a FTZ adapter, or buy Nikon Z FX Lenses, how horrible is that in 2020 or 2021 ?
Nikon Should include More DX Lenses to 2021 Roadmap
Being a professional shooter from past 14 years, I am really shocked to see the DX Lens Roadmap. If they are not willing to invest their time and money to new DX Mirrorless system, they why should we ? Nikon at least add a dedicated DX wide-angle zoom, Macro and a Portrait lens in 2021 roadmap.
Nikon Z50 is a Excellent Camera but it do need DX lens backup, do share your thoughts with us. Click here to see Nikon FullRoad Map of upcoming Mirrorless lenses.
Get LIVE updates
Follow us on our social pages  FACEBOOK | TWITTER | INSTAGRAM to get live news + rumors 24X7