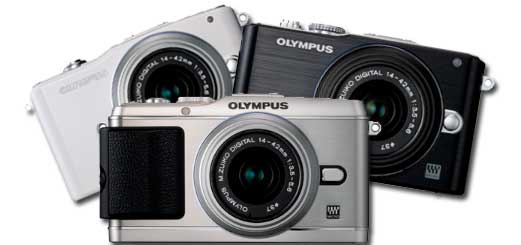 Olympus E-P3 vs Pen Lite E-PL3 vs Pen Mini E-PM1 – Olympus has announced three new Pen models – the Pen E-P3, Pen Lite E-PL3 and Pen Mini E-PM1. All three models feature a new 12-megapixel sensor and TruePic VI imaging engine, Read the comparison review below and select best camera for you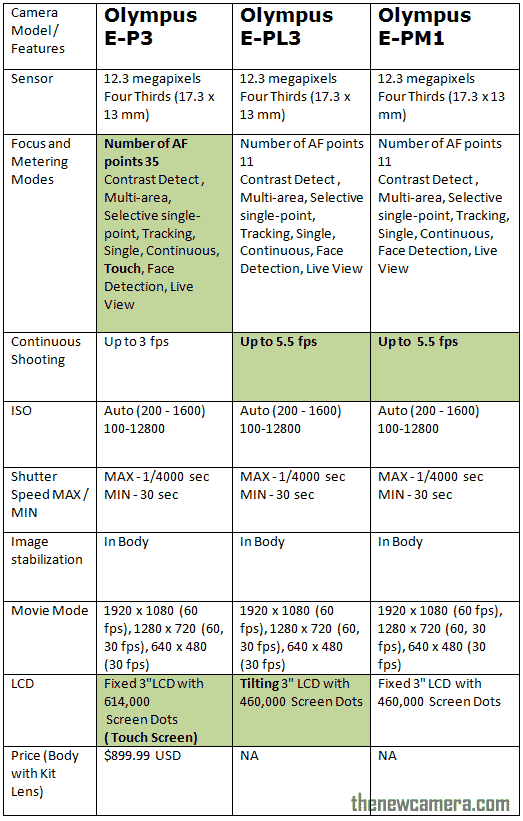 New Sensor – The best part of Olympus PEN Series is the new sensor, Olympus claims to have widened the dynamic range by more than a stop and improved noise performance compared to previous Pen cameras. The new sensor features Max ISO range up to 12800 (100-12800) and can shoot Full HD movies at 60 fps (1920 x 1080 @ 60 fps)
Continuous Shooting – Flagship Pen E-P3 Continuous Shooting is limited to only 3fps whereas Olympus Lite E-PL3 and Pen Mini E-PM1 can shoot up to 5.5 fps, really amazing?
Art Filters – The E-P3 offers 10 Art Filters – Diorama, Pop Art, Soft Focus, Pale & Light Color, Light Tone, Grainy Film, Pin Hole, Cross Process, Gentle Sepia and Dramatic Tone – and a new Art Filter bracketing mode that allows users to output up to 10 different images from one shot. The E-PL3and E-PM1 offers only 6 art filters.
Size and Design: The flagship E-P3 is the largest of the three models and includes a built-in flash and 3-inch, 610,000-dot OLED touch-screen display.
The Pen Lite E-PL3 is similar in size to the Pen Mini, but slightly thicker and heavier due to a tilting 3.0-inch monitor. The screen has maximum angle adjustments of 80° up and 45° down.
The Pen Mini E-PM1, weighs in at just 215 grams without a lens. It offers the same imaging capabilities as the other two Pens with identical sensor and imaging engine.
Conclusion – Before buying any new PEN Camera just remember that all the three new PEN camera have identical sensor and imaging engine, but the AF speed of E-P3 is very fast, The E-P3 is around 40% faster than the classic E-P2 and offers touch OLED screen! The PEN Lite E-PL3 offer you Tilting LCD and faster continuous shooting speed, The Olympus PEN Mini E-PM1 is lightweight and good for travel purpose.
The Pen Lite E-PL3 and Pen Mini E-PM1 is currently not available, You can pre-order/Buy PEN E-P3 at b&H online Store