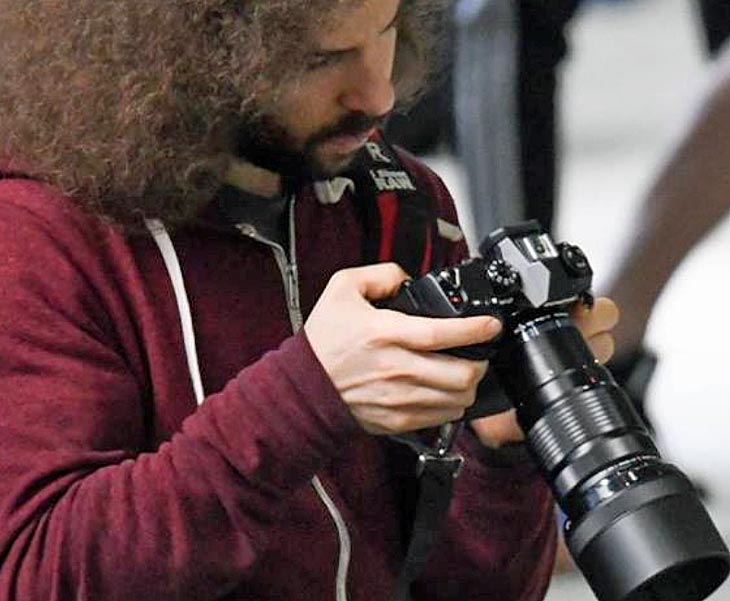 As you can see Olympus E-M1X camera spotted in the hands of professional photographer and popular youtuber Jared Polin.  We are not able to read out the labels on the lens, but the lens also seems to be a new one and expected to arrive along with the camera. Before you say in comment box.. how you can say that it's the E-M1X camera ? well  just take a look at the leaked images of the Olympus E-M1X camera once again
Olympus E-m1X camera is rumored to arrive in the beginning of January 2019 and the shipment of the camera start from February month.Take a look at the rumored specification if the Olympus E-M1X camera.
Olympus E-M1X Major Specification
Sensor: 20MP
Frame rate: 18fps
7.5+ EV stabilization
Faster image processing – approx 2x faster than the E-m1X
Autofocus: Adaptive and expandable focal points
Body Size: 144.37 x 146.765 x 75.345mm (body with a built in vertical grip)
High Res: Can shoot handheld High Resolution images (around 80MP) at 1/60s
Photography focus: Sports and Wildlife shooters
Same batteries as E-M1 Mk II
Larger EVF
Launch: January 2019 along 

"2 tele zooms, 1 wide angle zoom. speedlight. zuiko binoculars"

Availability: February
The Olympus E-M1 Mark II already crated a world record by introducing Image Stabilization support upto 6.5 Stops. Now, the new camera is said to feature Image Stabilization upto 7.5+ EV stops.
Follow Olympus E-M1X Page at Facebook
.Follow us on our social pages  FACEBOOK | TWITTER | INSTAGRAM to get live news + Olympus Rumors 24X