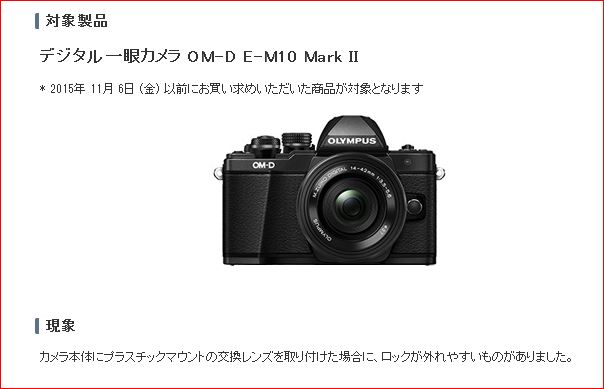 Thanks to our readers for sending us the alert; Olympus Japan confirms E-M10II sales production will going to be resumed from November 6, 2015. take a look at the press release via Olympus Japan tranlated by google
Digital single-lens camera "OM-D E-M10 Mark II"
Notice to the sales resume and your favorite customers
And the continued exceptional patronize our products than patronage, and extremely grateful.
In the digital SLR camera "OM-D E-M10 Mark II", in the case of installing a replacement lens of plastic mount on the camera body, it is found that there are things the lock is easy to come off, and then guide you through the temporary sales pause I got off.
This time, so we will resume the sale from November 7, will be announced.
Regarding your purchased customers The whom before November 6, it will be a free repair.
Customers you have a target of product we kindly ask you to refer to the sending the following method.
That is to our customers that we apologize for the inconvenience and worry, respectfully apologize.
The future, so we will strive to further improve the quality of, thank you look forward to your understanding and cooperation.
Phenomenon
If you install a replacement lens of plastic mount on the camera body, there was what the lock is easy to come off.
Cause and measures
By a part of the variation of the lens lock portion, since the exchange lens of plastic mount There was a case that can not be firmly fixed, we have reviewed the processing method of parts
Correspondence
Customers you have a product of interest, please send your camera body and the warranty card to the following destination.
It will be carried out free of charge repair.
Destination and sending method
[If you take advantage of the pick-up service]
To your designated location, a service that courier is ask to take your OM-D E-M10 Mark II body, also courier will do packing.
If you wish, please call the following dedicated toll-free number.
With regard to this matter, available free of charge.
"Digital SLR announcement corresponding window"
Phone: toll-free 0120 – 227 – 030
Hours: 9:30 to 18:00 (year-end and New Year holidays, I except for system maintenance days)
[If you send us your own]
If you submit a target product on your own, please send it by postage cash on delivery to the following window.
Yubinbango192-8507 Hachioji, Tokyo, Ishikawa-cho, 2951
in Olympus CSC "E-M10 Mark II window" addressed
Telephone number: 0120 – 227 – 030
Request To submit a camera
Firmly attaching the body cap, only the "E-M10 Mark II" body, please send.
Please enclose not forget the warranty.
Lens other than the body, strap, battery, memory card is removed, please keep in your hand.
To submit yourself, courier service or to help you use the postal parcel, please store a copy of the invoice.
To submit yourself, prepare for the shock during transportation, such as wrap the camera body in the cushioning material, please consideration.
The invoice, such as a courier service, customers of the postal code, your address, your name, and contact information (telephone number), please fill out a "precision equipment" to the Name column.
After our arrival, and is scheduled to ship in our five business days.
For further information, please contact
"Digital SLR announcement corresponding window"
Phone: toll-free 0120 – 227 – 030
Hours: 9:30 to 18:00 (year-end and New Year holidays, I except for system maintenance days)