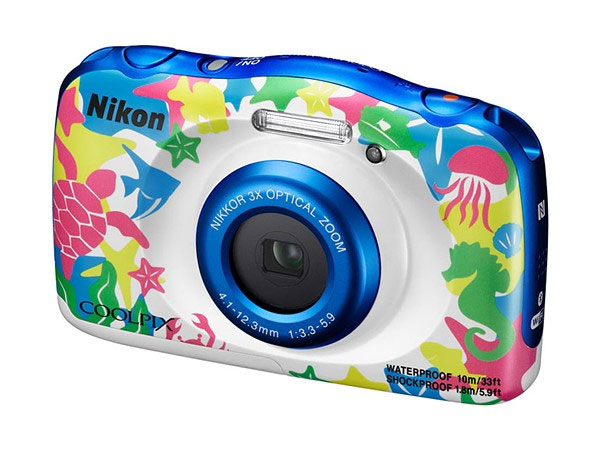 NIikon announced Coolpix W100 kid friendly camera today, the camera features 13.2MP sensor, 3X optical zoom lens and also records Full HD videos. The camera is waterproof to 32ft/10m, shockproof to 5.9ft/1.8m and freezeproof to +14F/-10C. The W100 camera is pre-loaded with SnapBridge connectivity, in select Asian and European markets. The camera features Wi-Fi and Bluetooth connectivity that supports the SnapBridge system.
---
Press Release below
Press release:
Reliable, easy-to-use weatherproof camera with a specially designed menu and additional creative options for every member of the family
TOKYO – Nikon Corporation is pleased to announce the release of the COOLPIX W100, a tough waterproof and shockproof compact digital camera that offers reliable, worry-free use with leisure activities.
The COOLPIX W100 combines reliable image quality with a simple, easy-to-use, animated menu option of Variety Menu, and an ergonomic design for everyone in the family to enjoy fun moments effortlessly. Its compact rounded design, large buttons and intelligent features such as Underwater Face Framing, enable users to capture high quality images and full HD*1 videos easily at the press of a button. New creative options including the Add Cartoon Effects and the Stamp function also aid in cultivating an interest amongst younger users. What's more, the COOLPIX W100 supports SnapBridge, which establishes a connection between the camera and a smart device, allowing users to easily share the photos they have taken via SNSs and the like, without removing and reinserting the SD memory card.
*1 "Full-HD" indicates recording capability in the 1920 x 1080 format.
COOLPIX W100 primary features
Worry-free performance for use by every member of the family

The camera is dustproof, waterproof to 10 m, shockproof to withstand falls from as high as 1.8 m, and freezeproof to -10°C. It has a tough body that allows it to be used with a wide variety of leisure activities, whether at the pool or the park sandbox, the beach or the ski slopes.

Functions and a level of performance that make capturing beautiful photos easy

The camera has an effective pixel count of 13.2 megapixels*1, and is equipped with a 3x optical zoom NIKKOR lens. It is also equipped with Dynamic Fine Zoom*2, that can be used to achieve approximately 6x zoom with which resolution is preserved in the digital zoom range. In addition, the camera offers a number of functions that make capturing beautiful photos easy, including Underwater Face Framing, which detects and automatically photographs human faces when the camera is in the water, and Target Finding AF*3, with which the camera detects and focuses on the primary subject. What's more, the camera is equipped with a new Add Light Trails (Multiple Exp. Lighten) mode for photo recording that enables beautiful recording of once difficult light trails made by stars or airplanes.

*1 May be reduced with image processing.

*2 The zoom ratio indicated for Dynamic Fine Zoom is the combined ratio of optical zoom from the maximum wide-angle position and digital zoom.

*3 With shooting in point and shoot mode.

Support for SnapBridge, which expands the ways in which photos are enjoyed

The camera supports SnapBridge, which uses Bluetooth® low energy (BLE) technology to establish a connection between the camera and a smart device. Photos taken with the camera can be automatically transferred*1 to a smart device, and if uploaded from SnapBridge, an unlimited number of thumbnail images can be automatically uploaded*2 from the smart device to Nikon's photo sharing service, NIKON IMAGE SPACE. Because photos can be transferred via the Internet or shared using an SNS the moment they are taken, sharing the exciting and dramatic moments that occur at leisure destinations is easy.

*1 Original size images or images reduced to 2-megapixel equivalent (JPEG) can be transferred automatically. RAW/TIFF data cannot be transferred. Movies can be transferred by switching to Wi-Fi®, then selecting files manually. Download is not available with AVI files.

*2 To upload images automatically to NIKON IMAGE SPACE, Nikon ID registration (free) is required, which can be easily setup via [Nikon ID registration/change] menu on the SnapBridge application. Only when uploading to NIKON IMAGE SPACE via SnapBridge, JPEG data reduced to 2-megapixel equivalent can be uploaded unlimitedly in number and capacity.

– The camera's built-in Wi-Fi®, Bluetooth® and/or NFC® capability can only be used when it is connected to smart devices with the SnapBridge application installed.

– SnapBridge application is available for a compatible iPhone®, iPad® and/or iPod touch® or smart devices running on the Android™ operating system. The application download is free from Apple App Store® and GooglePlay™

– The iOS application release date from Apple App Store® will be announced on SnapBridge Microsite as soon as it is determined.

A multitude of shooting and retouch functions that make taking pictures more fun

The camera allows users to express themselves in a variety of ways with effects and frames that can be added with shooting, the ability to change colors and apply effects to images after they are taken, and much more. New creative options such as the Stamp and the Add Cartoon Effects have been introduced. After images are captured, they can be decorated with hearts, stars, or other stamps using the Stamp function, and the Add Cartoon Effects function can be used to make the image look like a panel from a comic by drawing lines. The cameras functions have been greatly enriched to enable greater enjoyment of images.

A function for recording full-HD*1 movies with stereo sound that can be used to preserve high-quality movies of memories

The camera is equipped with a full-HD movie recording function that enables recording of high-quality movies by simply pressing the movie-record button. The effects of camera shake can be effectively reduced with the electronic vibration reduction (VR) function.

*1″Full-HD" indicates recording capability in the 1920 x 1080 format.

Additional features

– A Variety Menu setting that allows the user to control camera functions according to the user or situation

– A welcome screen with which the characters and background change according to the time of day, how often the camera is used, the number of pictures taken with the camera, etc., and to which new characters have been added

– Easy to hold and use, even for children with small hands, designed with a rounded form for a superior grip, and available in five colors, one of which is a new marine pattern

– An Exchange Messages function that allows users to communicate by recording voice messages

– An Image Lock function that allows users to restrict image deletion by simply holding down two of the buttons on the back of the camera at the same time