Nikon V3 vs Olympus E-M5 specification comparison, the Nikon V3 features 1 inch sensor and Olympus E-M5 M4/3 format sensor, so there is quite big difference in sensor size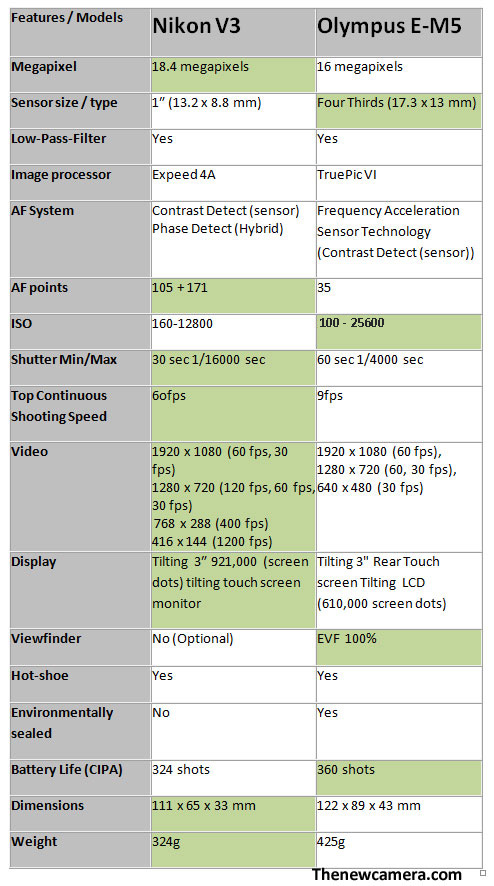 Nikon V3 offers more megapixels (18 vs 16) and have less sensor size, so the light reviving photodiodes of Nikon V3 is smaller than E-M5, The E-M5 will give you bit more dynamic range,  more color and contrast and better low-light performance.
AF System: The Nikon V3 have Hybrid AF system and Olympus E-M5 have Contrast based AF system.
The Nikon V3 features ultra-fast AF system that composed of 105 phase detection AF points and 171 contrast based AF points, The Hybrid AF System of Nikon V3 utilizes both phase + contrast and work very rapidly to acquire focus.
The Olympus E-M5 have traditional contrast based AF system but due to F.A.S.T (Frequency Acceleration Sensor Technology) technology developed by Olympus E-M5 enjoys 2x speed increase in Continuous Autofocus compared to other contrast based AF systems.
Finally its no doubt that Nikon V3 will faster AF than Olympus E-M5.
The ISO range of Olympus starts from 200 and Nikon V3 starts from 160 and high ISO range touches upto 25600 (1 stop more than Nikon V3), 400fps at  and the sensor is also big, hence Olympus E-M5 will give better image quality than Nikon V3.
The Olympus E-M5 will give better low-light performance than Nikon V3.
In-Body Image Stabilization: The Olympus E-M5 offers 5 axis based image stabilization, it prevent camera shake can actually be caused by five different kinds of movement: horizontal shift, vertical shift, rotary motion, as well as the yaw and pitch, No in-body IS available in Nikon V3.
Shutter: The new Expeed 4a image processor of Nikon V3 gives amazing speed to V3, The Nikon V3 have shutter range of 30-1/16000, Top continuous shooting speed of 60fps and 10fps at full resolution and Full time AF. Olympus E-M5 have shutter range of 60-1/4000, Top continuous shooting speed is limited to 9 fps only.
Video:  Both camera can shoot Full HD videos at 60fps, but Nikon V3 also offers fast frame rate at lower resolution,  it shoot HD videos at 120fps , 768X288 at 400fps and 416 X144 at 1200fps, no such fast frame reate available in E-m5.
The Nikon V3 is missing Viewfinder, you have to buy it if you have a habit using viewfinder for composing your images (as I do )
Verdict: Nikon V3 offers ultra fast speed and highly recommended for sports and street shooters if you never want to miss a shot, on the other hand Olympus E-M5 will give you better image quality with built-in image stabilization.
we hope that upcoming Olympus E-M6 or E-M7 camera will have hybrid AF, but for now Nikon V3 is winner.
NIKON 1 V3  Amazon | B&H Store |   |||| Buy Olympus E-M5 from Amazon | B&H