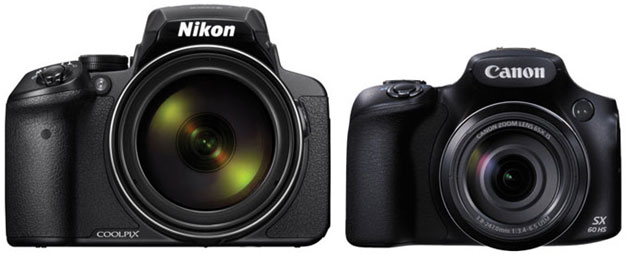 Until now the SX60 HS was one best zoom camera available, but the after announcement of the Nikon P900 everything changed.. the P900 features 83.3X optical zoom that will create a Jaw dropping experience for the photographer…  now take a look at the specification comparison review below..
Major Difference
Nikon COOLPIX P900 vs. Canon Power Shot SX60 HS Specification Comparison Table.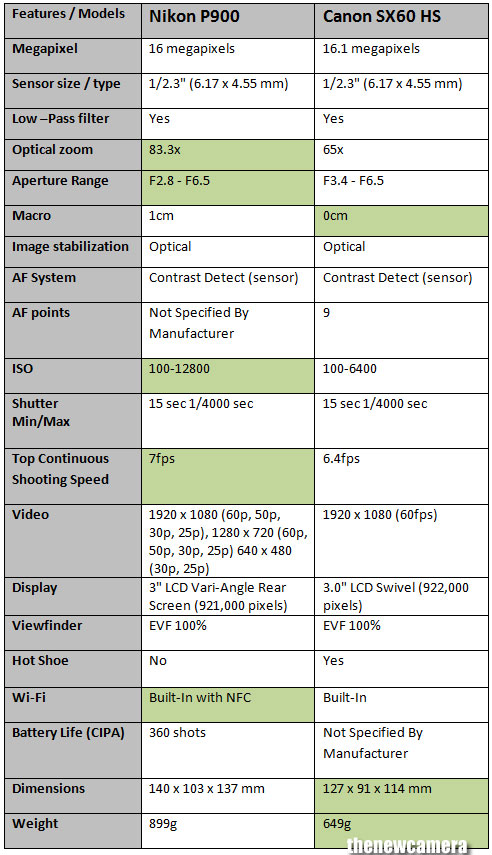 Lens:
The Nikon P900 features 83X optical zoom lens, that's is approx 18X more optical zoom than the Canon SX60 HS.
Nikon P900 features better aperture range compared to the SX60HS, so despite of having more optical lens elements and more zoom range, the P900 lens will allow more light to fall in the sensor compared to Canon SX60 HS camera,
Sensor
Both the sensor have same resolution and same  size, but the ISO range of the Nikon P900 is 1-stop more than the Canon SX60 HS.. so we will get clear low-light images compared to the Canon SX60 HS camera.

The other Nikon P600 advantage is bright aperture based lens, so at the end we are sure that Nikon P900 will give more cleaner images than Canon SX60 HS.
Continuous shooting speed:
The Nikon P900 features bit more fast continuous shooting speed than the Canon SX60 HS.
Both camera can record Full HD videos at 60fps so no difference here, on the rear side they both have almost same type of display unit and EVF.
WiFi and NFC
Both camera comes with built-in WiFi connectivity, but only Nikon P900 features NFC connectivity inside it, so you can also use smartphone with Nikon P900 camera for remote shooting purpose.
Verdict:  We highly recommend you to buy Nikon P900 camera, the camera features more optical zoom lens, more ISO range and better aperture range.