Just few days ago Nikon announced its new flagship compact camera Nikon P7700, the new model replaces the Nikon P7100 model. We have done a comparison review of Nikon P7700 vs Nikon P7100, see the review below and share your thoughts with us.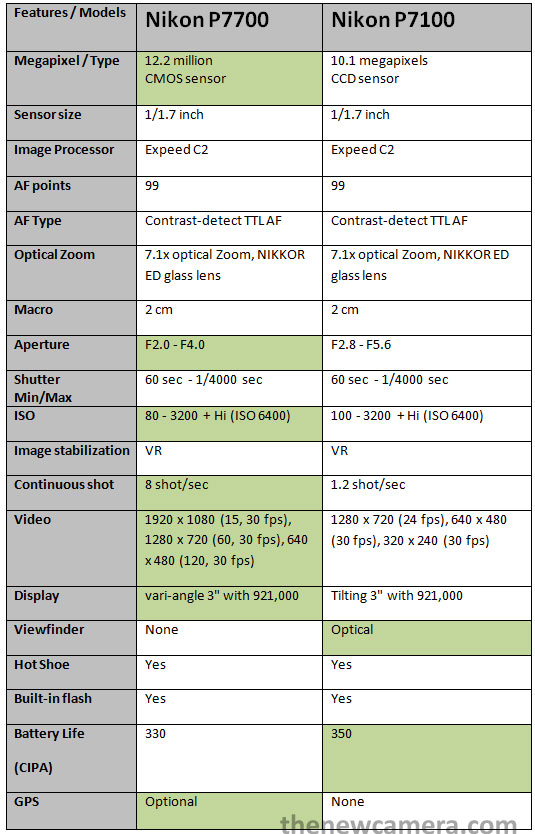 New Sensor and Lens
Nikon P7700 features newly developed BSI CMOS sensor, The lens is more bright and comes with a aperture range of f/2.0-4.0 lens, which is approx one stop faster compared to the P7100 Lens.
ISO
The ISO range of Nikon P7700 is 80-6400 and ISO range of Nikon P7100  is 100-6400, so you get a bit better ISO range with P7700 and the newly developed BSI CMOS sensor will give you more dynamic range & less noise compared to old CCD sensor of P7100.
Image processor
Nikon P7700 have same image processor as Nikon P7100 but Nikon managed to increase the continuous shooting speed of P7700 up to 8 fps, the multi burst speed of Nikon P7100 is limited to 1.2 fps only.
Improved Video mode
Nikon P7700 features 1080p Full HD movies with selectable frame rates and full manual control compared to the 720p HD resolution with limited control of the P7100.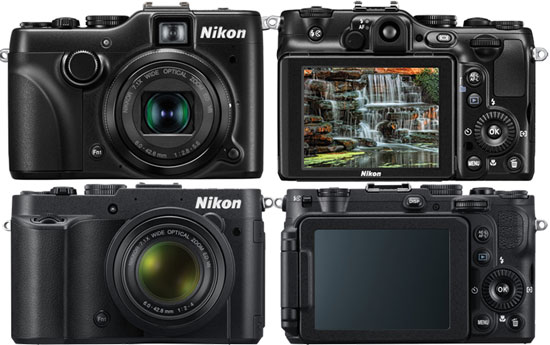 Improved Body design
The overall body design is much improved, the Grip becomes bit more bigger and the front mode dial is beautifully merged into hand-grip , now its become more easy to control your with camera three dials at the top with a nice grip with mode dial.
No Viewfinder
No EVF or optical viewfinder available in Nikon P7700, photographers have to use vari-angle display for taking images.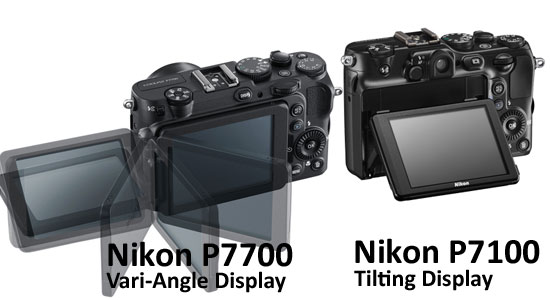 New LCD Nikon P7700
Nikon LCD features more better fully articulating display like canon G12, Nikon P7100 comes with a tilting display and its movement was limited.
Flash and GPS
New P7700 features pop-up flash and hot-shoe for external flash, allows you to control other flashes wirelessly without any problem, Now you can also use optional GPS unit for geotagging your images.
Conclusion:  The Nikon P7700 features new sensor, bright lens, 8fps burst, fully articulated LCD and Full HD videos with manual controls. Nikon P7700 is a decent upgrade over P7100.