Nikon P600 is a successor or P520 camera and features newly developed sensor and 60X optical zoom, 19X more optical zoom compared to its predecessor, take a look at the details below for specification comparison review below.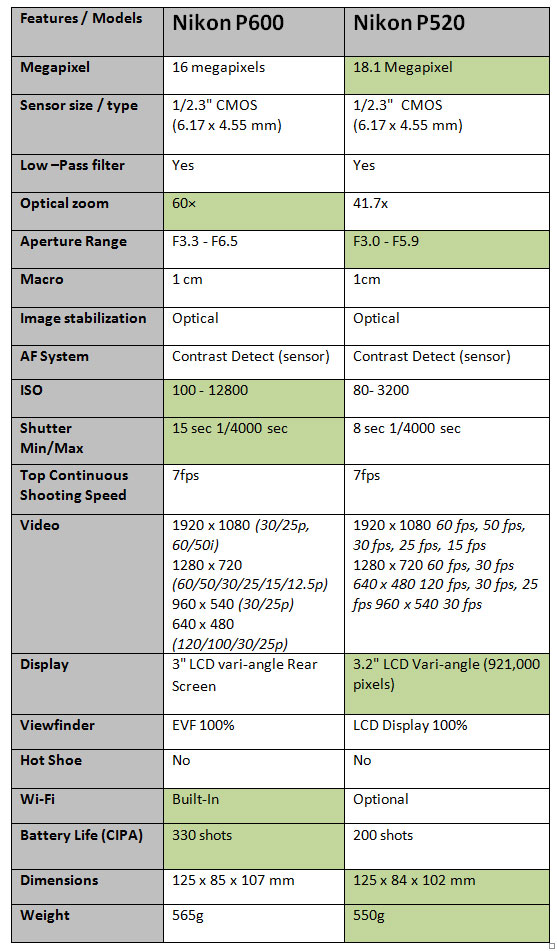 Better Sensor: Nikon P600 comes with newly developed sensor with more ISO range, so you will get less noise in your images with more better color and contrast reproduction.
More Optical Zoom: Yes, the major  upgrade we see on P600 is introduction of 60X optical zoom lens, the P520 was limited to 41.7X optical zoom.

Display: I don't know why Nikon reduced the display size in Nikon P600 camera, the P520 features a bit bigger display unit compared to Nikon P600.
Other features: Nikon P600 also feature Built-in WiFi for wire less data transfer and better battery life compared to P520
Verdict: We highly recommend you to buy Nikon 600 camera since it features more optical zoom and broad ISO range with built-in WiFi for pain free image transfer and remote shooting.