Nikon P600 features amazing  60x Optical Zoom NIKKOR Super ED VR Lens with 16 Megapixel CMOS sensor, on the other hand Canon has a limited 50X optical zoom and a 12 Megapixel CMOS sensor.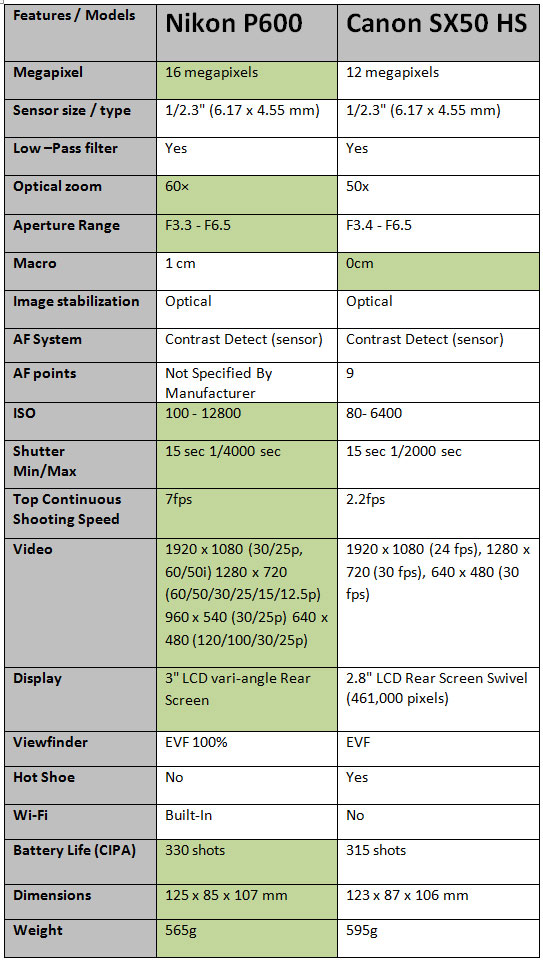 Nikon P600 feature more resolution, more optical zoom and bright lens, the ISO range of Nikon P600 starts from 100 to 12800, so we not only get more zoom but we will also get improved image quality from Nikon P600 when compared to SX50 HS.
Nikon P600 features better shutter range compared to Canon SX50 HS and you also get bit fast shooting speed.
Nikon P600 offers Full HD video recording upto 60fps and on the other hand Canon SX50 HS Full HD video recording to limited to 30fps only.
Nikon P600 features better and bigger display unit compared to Nikon P600.
Nikon P600 also offers Built-in WiFi for remote shooting and wireless file sharing, No built-in or optional WiFi available in SX50 HS.
Verdict:  Nikon P600 features more zoom, more megapixel and  more ISO range for better low-light perforamnce, hence we recommend you to buy Nikon P600 over Canon SX50 HS