Thenewcamera exclusive: We have sorted out some of the best and Recent Nikon patent filled in the year of 2018. let's have a look at the patent details and information. The good thing to notice here is Nikon haven't postponed the development Nikon DSLR in favor of Mirrorless system cameras. Their R&D team working continuously to bring out new innovation in next generation of DSLRs
1. Improving DSLR lenses VR (Image Stabilization)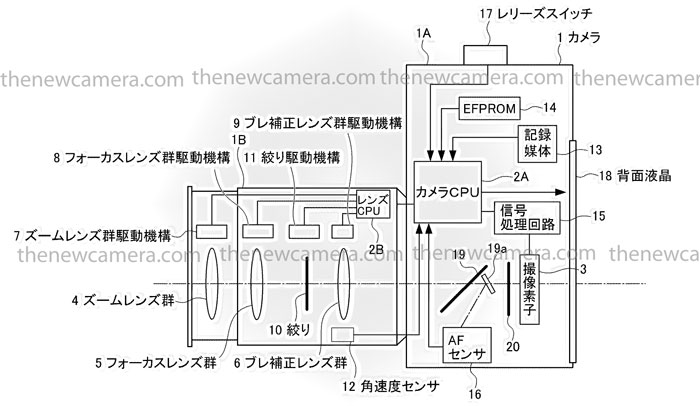 In a Recent patent by Nikon, you can clearly see that Nikon is working to improve the VR (image stabilization of Nikon DSLRs lenses). More details co0ming out from patent documents are below
Patent Details
Application Number: 2018034227 Application Date: 28.02.2018
Publication Number: 2018116288 Publication Date: 26.07.2018
Applicants: Nikon Corporation
[ Translated Patent Details ]: To provide a shake correction device that allows for reference value correction excellent in accuracy.SOLUTION: According to the present invention 100, a shake correction device 100 correcting tremors of optical members 1B and 6 comprises: an angular velocity sensor 12 that detects angular velocity of the optical members 1B and 6; a reference value computation unit 34 that computes a reference value of an output signal of the angular velocity sensor 12; an imaging element 3 that generates an image signal for each of continuous frames on the basis of input subject image light; a motion vector computation unit 41 that computes a motion vector of an image between the frames on the basis of the image signal; a reference value correction unit 42 that corrects the reference value on the basis of the motion vector; and a target position computation unit 36 that computes a target position of the optical element to be moved for causing the optical members 1B and 6 to perform a shake correction on the basis of the output signal of the angular velocity sensor 12 and the post-corrected reference value. The target position computation unit 36 is configured to, during an exposure of the imaging element 3, compute the target position on the basis of the post-corrected reference value in a pre-exposure.
---
2. Nikon Patent Intelligent Optical Viewfinder to Protect Photographer Eyes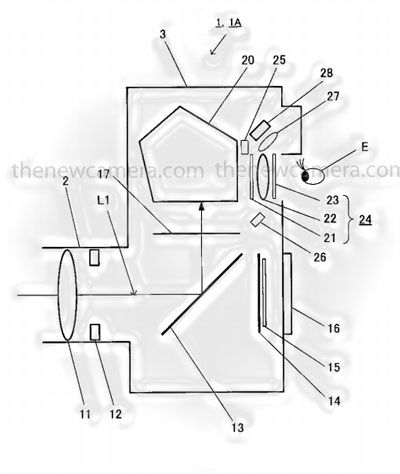 To protect eyes from high-brightness subject specifically SUN, the viewfinder will now have a light-sensor to detect the amount of light passing through the viewfinder and will control the out-put whenever required to protect photographers eye. Take a look at the translated patent details below
Patent Details
Application Number: 2018036763 Application Date: 01.03.2018
Publication Number: 2018116291 Publication Date: 26.07.2018
[ Translates Patent Description ] The present invention relates to a camera having a function of protecting the eye from the high-brightness object. When viewed high luminance object such as the sun through the camera viewfinder, it can adversely affect the pupil. Therefore, in order to protect the eyes, and the photometry sensor the finder optical path, provided eyepiece shutter or eyepiece aperture, when the strong light exceeding the reference value the incident, light shielding or reduced by operating the eyepiece shutter or eyepiece diaphragm camera for light quantity control of such light are known
---
Nikon Z Series Underwater Housing and Adapter Image Spotted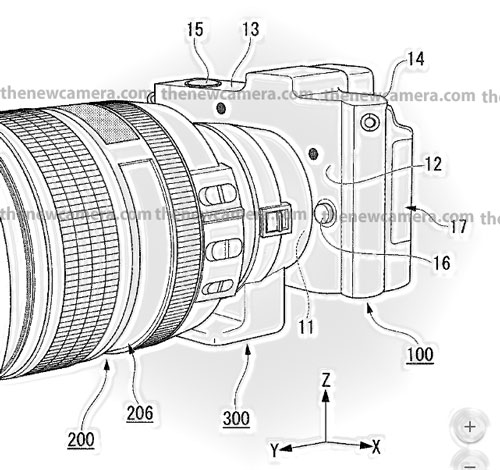 We have searched a lot  int this patent about details, however it's sometimes hard to dig out all the details from translated machine language. From the translated text it's very clear that Nikon is working on more new type of adapters for its Mirrorless cameras at the same time it's really bit strange to see a Camera under-water housing showcased in the patent image. May be they were trying to hide the new Nikon Mirrorless camera models  ?
See more Nikon Patents
Stay with us on FACEBOOK | TWITTER | GOOGLE+ to get live news + rumors 24X7