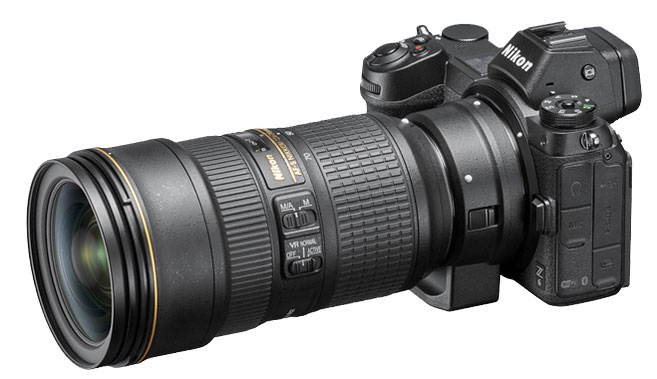 Take A look at the set of Five Question we have received  today,
Q1 .Maybe you can answer a question for me and other readers about the new Nikon Z6.
I read that you can use a adapter to use older Nikon lens. It looks to me that the adapter is not as close to the sensor as it should be.
Does that mean the Lens used with the adapter will change the focal length of the Lens ?
Q2. Does putting the Big FTZ adpater will add a extra crop factor ?
Q3. Hi TNC, Can I use my Nikon Mirrorless Lenses to Nikon DSLR ?
Q4. Nikon FTZ Mount adapter creates any Focal Length issues with DSLR lenses ? Kindly let me know if Nikon DSLR Lenses suffer from any crop factor when used with Nikon Z6 Mirrorless camera.

No, Nikon FTZ adapter will not change the focal length of the Fullframe DSLR Lens
The answer is very simple, You don't have to face any crop issue while using Nikon DSLR lenses in Nikon Z6 or Z7 Mirrorless camera.
The DSLR have Mirror inside (the flip-up Mirror) for reflecting a portion of light to Viewfinder and some to the Phase AF sensor sitting inside the Main sensor, so the flange distance (distance from sensor to lens) is large in DSLR camera. Now in Mirrorless the flange distance is small due to the absence of Mirror. So the distance of Lens from main sensor is small compared to DSLR. Hence, to use the DSLR lenses in Mirrorless we have to recreate the same distance with the help of an adapter,  this doesn't affect focal length of the lens.
That's why you can use your Nikon FX / Fullframe DSLR Lenses to Nikon FZ Mirrorless camera with an adapter, but in any case you cannot use the Mirrorless lenses to DSLR.
Flange Distance (distance from lens to sensor)
Nikon Z Mount – 16 mm
Nikon F Mount –  46.50 mm
Nikon Z mount + FTZ adapter – 46.50mm
Also see – Nikon Z6 vs Sony A7 III
The Nikon FTZ Mount adaptor available at $249 – Available at B&H Store
Buy Nikon Z6 camera from B&H | Amazon.com
Follow the Nikon Z6 Facebook Page | Nikon Z7 Facebook Page
Subscribe thenewcamera YOUTUBE channel Stay with us on FACEBOOK | TWITTER | GOOGLE+  to get live news + rumors 24X7