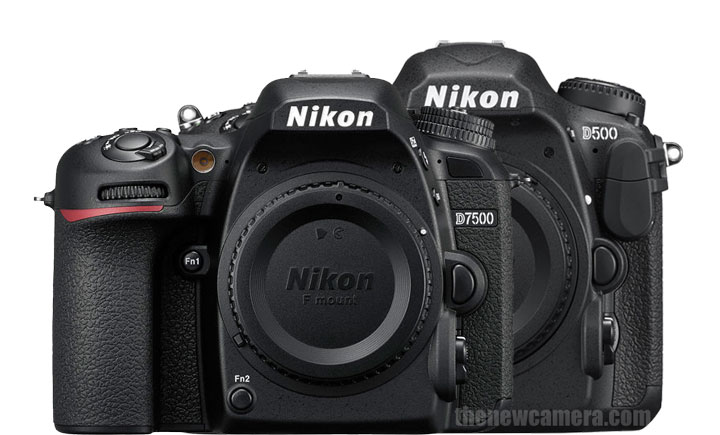 Nikon D7500  does include a major part of Nikon D500 inside. However Nikon decided not to upgrade the AF module of the Camera to save Nikon D500 sales volume.. take a detailed look at the specification comparison
Features/ Models
Nikon D7500

Nikon D500

Megapixel
21

megapixels

21

megapixels

Sensor size
APS-C (23.5 x 15.7 mm)
APS-C (23.5 x 15.7 mm)
Sensor Type
CMOS
CMOS
Low pass filter
No
No
Image processor
Expeed 5
Expeed 5
Image Stabilization
E-VR 3-axis I.S (Video)
 No
AF system
51-Point All Cross-Type Phase-Detect
AF Multi-CAM 20K 153-Point AF System, 99 cross type
ISO
50-1640000
50-1640000
Shutter Min/ mix
30sec-1/8000
30sec-1/8000
Continuous shooting speed
8 fps
 10 fps
Video
4K UHD Video Recording at 30 fps
4K UHD Video Recording at 30 fps
Display
3.2" 922K-dot tilting touchscreen LCD
3.2″ 2,539k-Dot Tilting Touchscreen LCD
Viewfinder
Optical
Optical
Hot shoe
Yes
Yes
Wireless
Built-In
 Built-In
Environmentally sealed
Yes
Yes
Battery life
950
1240
Dimensions
136 x 104 x 73

mm

147 x 115 x 81

mm

Weight
640g
860g
Before we begin let's talk about the design
Let's start the comparison of Nikon D7200 and Nikon D500. Nikon D7500 camera is slimmer, thinner and smaller compared to the Nikon D500.
In general small cameras are easy to carry and they are more comfortable when you have to hold them for a long time. Nikon D7500 also weight less than Nikon D500 approx 220 gram lighter then the Nikon D500.
Sensor of Nikon D500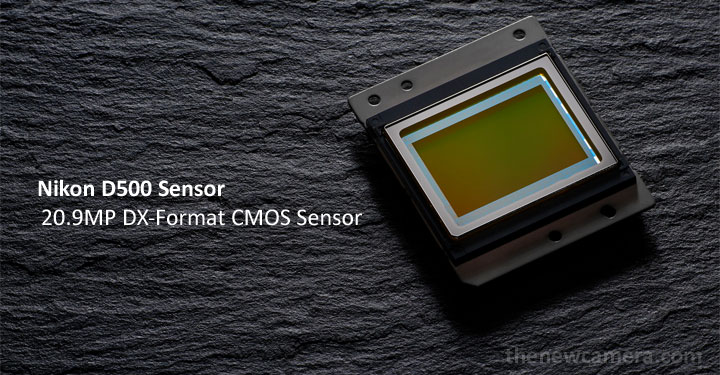 Nikon D7500 camera uses same sensor as of Nikon D500 camera, hence the size and type of sensor is exactly same. Not only that the image processor inside the camera is also same and hence we expect Nikon D7500 will deliver same image quality as of Nikon D500.
ISO range
The ISO range of the camera is also range is also same as of Nikon D500. The reason behind the same ISO range is Nikon D500 camera uses same sensor and image processor. And hence you get same image quality as of Nikon D500 from Nikon Nikon D7500, we can also called Nikon D7500 as a lite Nikon D500.
Low pass filter
Both camera doesn't' have low pass filter inside it, hence we expect both camera will deliver astounding images without an issue.
Image Stabilization: This is the first time Nikon introduce in-body image stabilization inside a DSLR. But keep in mind it's a electronic Image Stabilization system only available for Full HD video mode. So if you need crisp and clear pictures or better 4K you must get VR lenses.
Auto-focus:  The Auto-focus of the camera, The Nikon D500 features Multi-CAM 20K 153-Point AF System whereas the Nikon D7500 features Multi-CAM 3500 II DX 51-Point AF Sensor same as of Nikon D7200.
The Nikon D500 features advance AF system composed of 153-Point AF System, 99 cross type whereas Nikon D7500 camera features 51-Point All Cross-Type points only. Without a doubt the Nikon D500 features a better AF system with more coverage so you never miss any AF frame even using continuous burst while panning your camera.
Hence in the AF department we haven't seen any improvements. The AF system of the camera remains same as of its predecessor.
Continuous shooting speed: The Nikon D7500 features continuous shooting speed of 8 fps whereas Nikon D500 is capable to record images at 10fps. So, Nikon D500 is offering you three extra frames per second. If you are a sports shooter then you will sure know the value of 3 extra frames in a second.
Other feature
Being a high-end camera the Nikon D500 do feature high resolution display and more battery life. on the other side the Nikon D7500 is bit lighter as well as smaller.
loss of the 2nd SD card slot: The biggest loss in my view, Nikon decided to cut one SD card slot, earlier version of D7XXX series camera do have dual SD cards slots.
Verdict:  Nikon D7500 is a lite Nikon D500, you will get same image quality since Nikon used Nikon D500 sensor inside Nikon D7500. But under $1200 price tag you are getting industry best APS-C sensor that supports 1.6Million ISO. We highly recommend you to get this camera.
Pre-order Nikon D7500 Camera Body
Pre-order Nikon D7500 lens kit with the 18-140mm VR lens