Nikon D750 and Canon 5D Mark III specification comparison review, the Canon 5D Mark III is approx a 2 year old camera and Nikon D750 is few weeks old.. so take a look at the difference below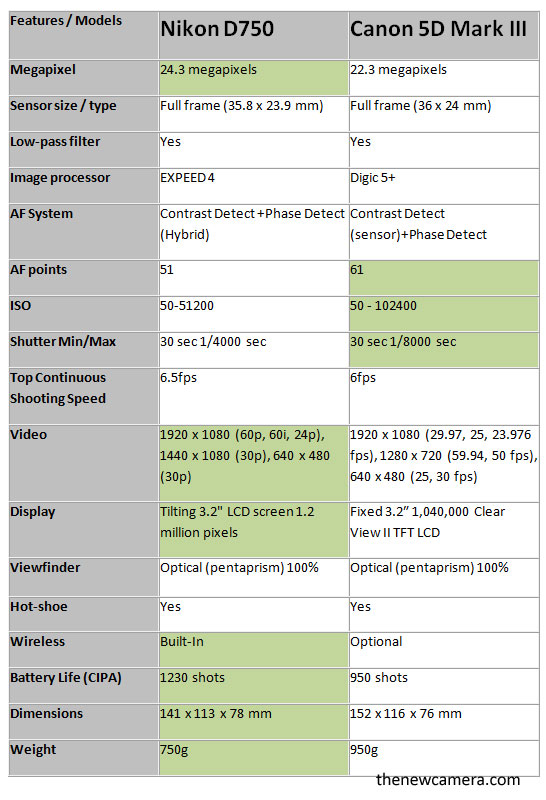 Nikon is giving you bit more resolution, but I am amazed that Nikon  took 2+ years to develop a 5D mark III rival and still the AF system of the recently announced Nikon D750 is inferior to 5D Mark III.
Nikon D750 ->  51 distinct points available, you get options to use 9, 21, or all 51 points depending on the situation.
Canon 5D Mark III -> 61-point autofocus system with upto 41 cross-type AF points (with f/4 lens support) and 5 dual diagonal AF points (with f/2.8 sensitivity).
The ISO range of Nikon D750 is also limited to 51200 only on the other hand the 5D Mark III ISO range touches 102400 mark, hence no doubt that the 5D Mark III will perform better in low light condition when compared to Nikon D750.
Nikon is offering a better Full HD Video mode with tilting display system and bit more resolution… and the (only) best part is it is more affordable compared to 5D Mk 3
and finally the verdict, the Canon 5D Mark III gives you advance AF system, more ISO range and based on specification comparison review we recommend you to buy 5D Mk 3.
Buy Nikon D750 at B&H Store || Amazon|    Buy Canon 5D Mark III From Amazon