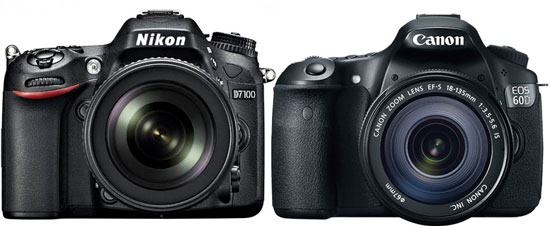 Nikon D7100 vs Canon 60D Specification comparison review, take a look at the comparison review between a semi-pro and professional APS-C DSLR.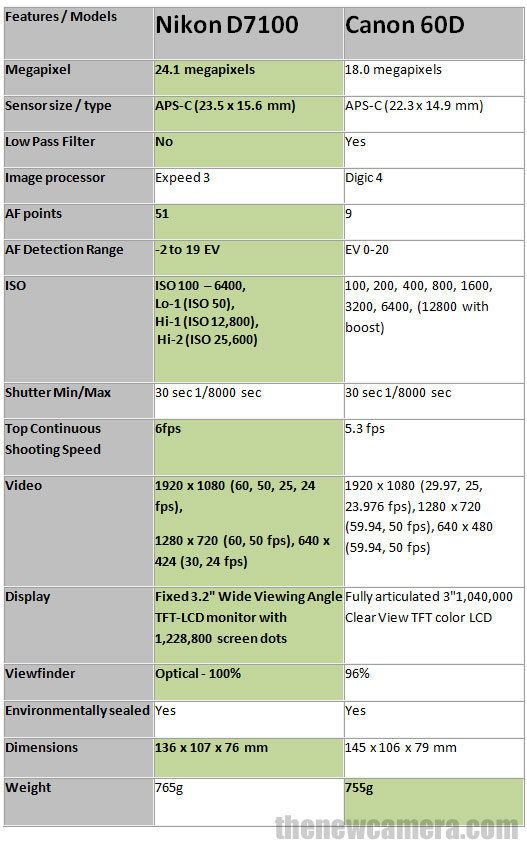 Sensor
Nikon features 24.1MP CMOS image sensor, Canon 60D features a Canon-designed 18MP APS-C size CMOS sensor. Nikon sensor is bit bigger and have more resolution.
No Optical Low Pass Filter
Due to no optical low pass filter the Nikon D7100 will capture more details, color and have less noise at high ISO.
ISO
Nikon D7100 features better ISO range
Nikon D7100 features ISO sensitivity range that expands from 50 to 25600 ISO equivalent, Canon 60D features 100-6400 (adjustable in 1/3-step increments from ISO 100-6400 and expandable to 12,800) .
Auto-Focus
Nikon D7100 features advance AF system
The D7100 uses 51 focus points, including 15 cross-type sensors for detecting both vertical and horizontal contrast variations, to achieve fast, precise focus. The central cross-type sensor works down to f/8, which is an advantage when using compatible tele-converters.
The 9-point AF system on the new EOS 60D features f/5.6-sensitive cross-type focusing on all nine focusing points. Like the EOS 7D, the center AF point is a hybrid of standard cross-type and special diagonally-shaped "X" cross, with high-precision sensitivity for f/2.8 and larger aperture lenses
Continuous Shooting Speed
Nikon D7100 is more fast compared to 60D
Canon 60D can shoot up to 5.3 frames per second (fps), capturing a maximum burst of approximately 58 Large/JPEGs and 16 RAW.
Nikon D7100 can capture rapid six frames-per-second (fps) burst speed in 1.3X crop mode.
Video
Nikon D7100 features better video modes
Nikon D7100 features Full HD video recording @ 60fps
Canon 60D Full HD is limited to 30fps only
Display
Nikon features bigger high res-display.
D7100 features a new 3.2″ ultra-high-resolution 1,229K-dot Fixed LCD monitor.
Canon features Vari-angle 3.0-inch Clear View LCD monitor With 1,040,000 (dots/VGA) pixels.
other features
Nikon D7100 features in camera HDR
Conclusion

Nikon D7100 features better Sensor.
Nikon D7100 features No optical low pass filter
Nikon D7100 features better ISO range
Nikon D7100 features advance ISO range
Nikon D7100 features better Continuous shooting speed
Nikon D7100 features better video mode
Nikon D7100 have better display

Conclusion – Based on Specification Comparison we highly recommend you to buy Nikon D7100
Buy Nikon D7100 from Amazon | B&H | Amazon UK