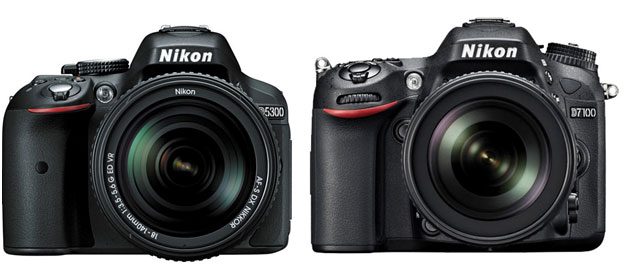 Nikon D5300 vs Nikon D7100 – You will not notice any difference in RAW image quality when you compare the Nikon D5300 and D7100 DSLRs RAW files, since both of them features same sensor, but there is a possibility that the JPEG of D5300 will have less noise than Nikon D7100 due to the use advance EXPEED 4 image processor in D5300. Take a look at the chart below + its analysis for major difference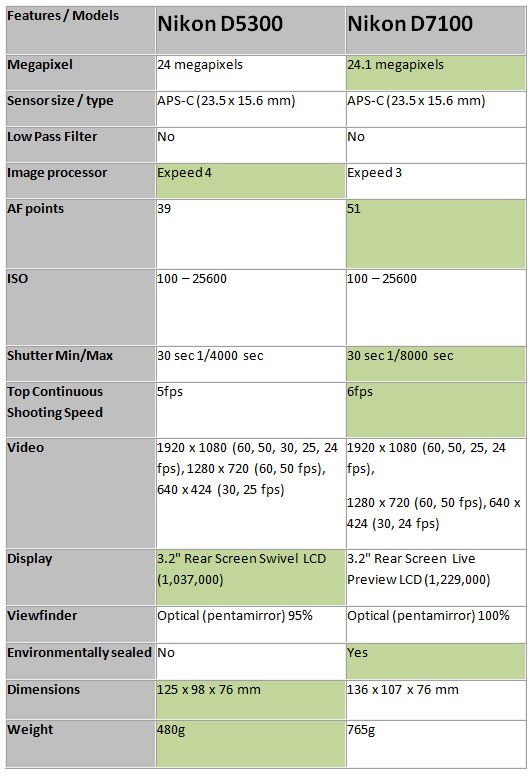 Major difference
#1 Expeed 4 image processor – You get advance image processor in Nikon D5300.
#2 Auto focus System: The Nikon D7100 features advance AF system with more AF points.
The D5300 uses 39 point AF system – 39 distinct AF points, including nine cross-type sensors, to quickly acquire focus in a range of lighting conditions.
The D7100 uses 51 focus points, You get 51 AF points including 15 cross-type sensors for detecting both vertical and horizontal contrast variations, to achieve fast, precise focus.
#3 Shutter: Nikon D7100 features bit fast continuous shooting speed (5 vs 6 fps) and more MAX shutter range compared to D5300 (1/4000 vs 1/8000).
#4 Swivel LCD display with Nikon D5300, Nikon D7100 have fixed display unit with bit more resolution.
#5 Rugged body: Nikon D7100 offers you rugged body, no such option available in D5300.
Verdict: As we have said in the beginning, the Nikon D5300 and Nikon D7100 will give you same image quality, but with D7100 you get bit more advance AF system.
Buy Nikon D5300 from Amazon | B&H   —–   Buy Nikon D7100 from Amazon | B&H