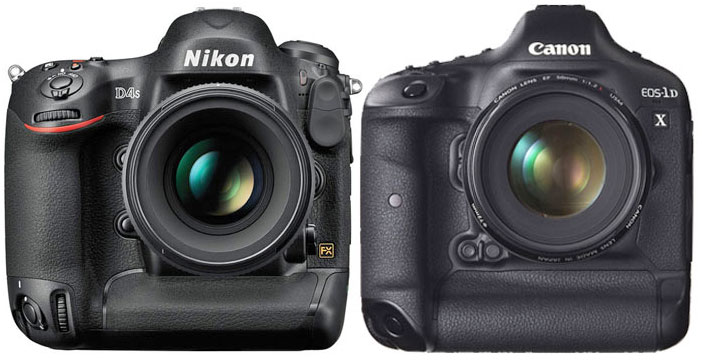 Nikon D4s is not a true successor of Nikon D4 DSLR, its just a speedy version of Nikon D4 camera that may fit easily more with sports shooters and photojournalist.
Now take a look at the specification comparison review of both the camera, does Nikon new Expeed 4 image processor is faster than Canon Dual Digic 5+ ?, find out your answer below…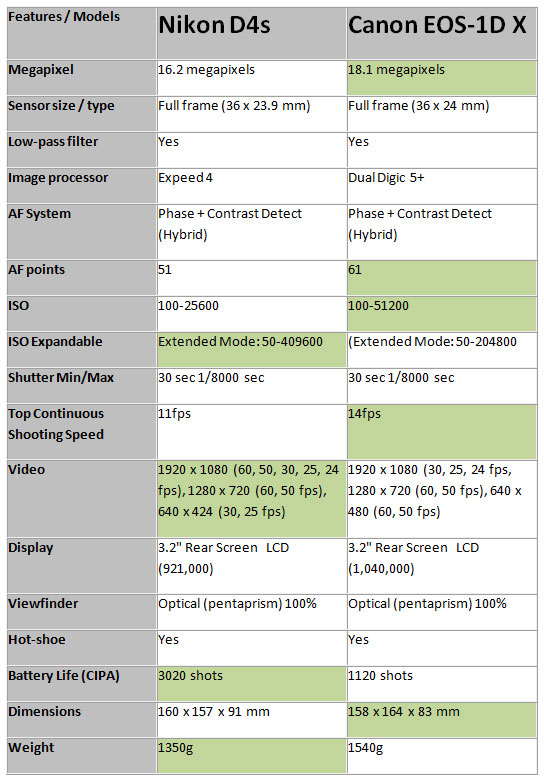 Sensor: The Nikon D4s features 16.2 megapixels Full frame (36 x 23.9 mm) CMOS Sensor same as of Nikon D4 DSLR, the increased ISO range in D4 is due to  (standard upto 25600 and expandable upto 409600) the new Expeed 4 image processor, the Canon 1DX on the other hand features 18.1 megapixels Full frame (36 x 24 mm) CMOS Sensor  1-stop more standard ISO range and 1-stop less expandable ISO range when compared to Nikon D4 DSLR.
ISO performance:
| | | |
| --- | --- | --- |
| | Nikon D4s | Canon 1D X |
| ISO Standard | 100-25600 | 100-51,200 |
| ISO Expandable | 50- 409600 | 50 – 204,800 |
Auto Focus
| | | |
| --- | --- | --- |
| | Nikon D4s | Canon 1DX |
| Autofocus | Number of focus points  51 | Number of focus points 61 |
| Cross-Type Points | 15 | 41 (5 diagonal) |
| AF Sensor compatible with Apertures | f/8 | f/8 |
| AF Engine | Multi-CAM 3500FX (same as D3) | DIGIC IV |
| Predictive tracking | Yes | Yes |
Nikon D4s AF System
Nikon D4s features same (old) AF engine used in D3, D4 DSLR  – Multi-CAM 3500FX autofocus sensor handles 51 AF points,  aligns its 15 cross-type sensors in the central viewfinder area to detect contrast in both vertical and horizontal lines for better AF performance.
Nikon AF system is old, but comes with a upgraded AF Algorithm that features Group area AF, When Group-area AF is selected, the camera uses one focus point selected by the user and one each above, below, to the right, and to the left of the selected focus point, for a total of five focus points used as single AF point. It helps to capture speedy subjects with greater certainty without focus shifting to the background.
Canon 1DX AF System
Auto focus Points: The number of AF points and Cross/Type points canon wins, the Canon 1D X features 41 AF cross type points and 5 of the center points are oriented diagonally for faster AF performance.
AF Engine: Canon 1D X AF system uses  dedicated Digic 4 processor , EOS-1D X's comes with 61-point Area AF system that includes 41 cross-type sensors and 5 dual-cross type AF points for extra precision.
Canon 1D X offers six presets for different shooting situations, Each of these presets can be adjusted for 'Tracking sensitivity'
For faster predictive focus measurements so that the EOS-1D X can begin predictive tracking as soon as a subject begins to move.
Canon EOS-1D X AF mode presets, defined by subject behavior:
1. Versatile multi purpose
4. Subjects that accelerate or decelerate quickly
2. Continue shooting, ignore obstructions
5. Erratic Subject Movement
3. Instantly refocus suddenly with obstructions
6. Subjects that change speed and move erratically
Six preset Case studies
There are six AF 'Case studies' preset within the EOS-1D X
Case 1 is for general purpose shooting that provides accurate and fast focus across a wide range of shooting situations.
Case 2 is designed for situations where the subject may move away from the AF point momentarily.
Case 3 allows you to instantly focus on subjects that enter the AF point area.
Case 4 is designed for subjects that change speed or direction rapidly.
Case 5 is designed for use with automatic AF point selection, Zone AF and AF Point expansion and subjects that move erratically, up and down or left and right.
Case 6 is for subjects that change speed abruptly and move erratically. Like 'Case 5' it is used with Automatic AF point selection, Zone AF and AF Point Expansion.
Continuous shooting
Nikon D4s
Canon 1D X

exposure and focusing is locked with the first frame

Continuous shooting
11 fps
14 fps
1DX that wins in the shooting speed, you get 3 extra frame per second in canon.
Video Shooting
| | | |
| --- | --- | --- |
| | Nikon D4s | Canon 1D X |
| Video Shooting Format | MPEG-4 / H.264 | MPEG-4 / H.264 |
| Video Resolutions | 1920 x 1080 (60, 30, 25, 24 fps), 1280 x 720 (60, 50, 30, 25 fps), 640 x 424 (30, 25 fps) | 1920 x 1080 (30, 25, 24 fps, 1280 x 720 (60, 50 fps), 640 x 480 (60, 50 fps) |
| Video ISO Range | 200-204800 | 100-51200 |
Nikon gives you option to record your Fill HD videos @ 60fps frame rate however the Canon is limited to 30 fps frame rate at the Full HD mode, but not only that you get more extra benefit from Nikon D4s such as
More Video ISO range in Nikon D4s DSLR.
You can record 1,920 x 1,080/30p Full HD and HD movies in three formats that are FX-, DX-based and 1,920 x 1,080 crop movie format.
Nikon D4s with More shooting modes: With Canon 1D X you can use Canon EF lenses only, but with  Nikon D4s you can use DX and FX lenses, Nikon D4s offers four image area options: FX format (36.0 x 23.9 mm), 5:4 crop (29.9 x 23.9 mm), 1.2x crop (29.9 x 19.9 mm) and DX format (23.4 x 15.5 mm). The camera also offers three image area options for Full HD video thereby tripling its potential for moviemaking.
Storage: 1DX coming with two slots of high-speed UDMA 7 Compact Flash cards,  D4s also comes with two slots one for  UDMA 7 and the other slot for the new XDC card format.
Conclusion: I think Nikon need a "Nikon D5" DSLR to beat the core specification of 1 year old Canon 1DX DSLR, The AF system of Canon 1DX is still advance and on the other hand Nikon features better video mode and expandable ISO range is 1 stop more than Canon 1DX (although the standard ISO range remains 1-Stop less than Canon 1DX)
For latest Price and Pre-order Nikon D4s visit Amazon, B&H and Adorama
Buy Canon 1D X from Amazon