The Nikon D3400 features same resolution sensor as of Nikon Mid range DSLR D5600 camera.  The big question is, Is Nikon D5600 and Nikon D3400 is using the same 24MP CMOS sensor ? or Nikon D5600 is using a better one ? Let's find out the fact by doing a High ISO test.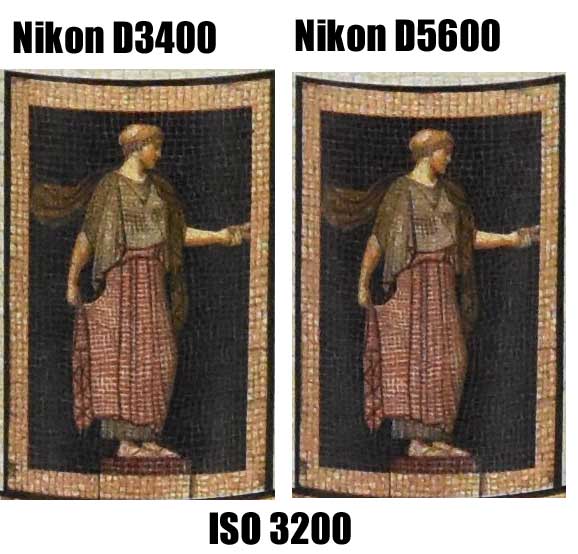 Nikon D3400 vs. Nikon D5600 ISO 3200
Nikon D3400 image quality is just awesome, we aren't saying the Nikon D5600 samples are inferior. But we aren't able to see any big difference between the two.

Nikon D3400 low-light test done at ISO 6400
Again if we look at the sample images of the cameras captured at ISO 6400, both images look identical to each other, and anyone can guess that both pics are generated from same device. But, the reality is we are getting images from the same sensor sitting inside different models. Both the camera controlling color noise very well and details are also usable at ISO 6400.
Also see – Best lenses for Nikon D3400
Now be ready for the moment when you will witness Nikon D3400 performance surpasses Nikon D5600 camera. And it's really a big issue without a doubt.
Nikon D3400 outperformed Nikon D5600
Now can you believe a $496 camera beat $696 camera in low light test ? Yes, while looking at the both the samples they look identical to each other bit while closely examining both the image we noticed Nikon D3400 is able to preserve a bit more details at some specific area of the image when compared with Nikon D5600.  May, be due to a different Algorithms running in both the models.
While looking at the images from both the camera we are not able find any difference between the two. After closely examining the images at 100% scale we have concluded that both the camera is using the same sensor for sure, despite having big difference in price.
So if you are sincere about image quality and want to save few bucks go and get Nikon D3400.
Buy Nikon D3400 from Amazon | B&H
Also see Nikon D5600 vs Nikon D3400