Nikon A1000, Sony WX700 and Sony WX800 is expected to be announced soon. Nikon A1000 camera registered few months back and now Sony also registered two compact camera including Sony WX700 and Sony WX800 Take a look at the registration details of the camera.
Nikon A1000, Sony WX700 and Sony WX800 Registration Details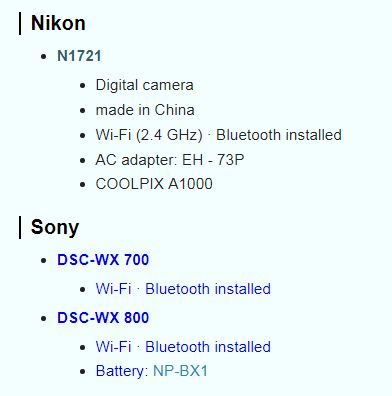 Out of these three compact camera we already know that Nikon Coolpix A1000 is expected to arrive in next few months [see here and here], but along with that Sony WX700 and Sony WX800 camera is also coming soon. All these compacts features super-compact body with 30 to 50X optical zoom lens and 4K video. We will update soon as we get detailed set of specification.
Once camera get registered in the world certification agencies it take roughly two to three months to become official. If everything goes on right direction then we are expecting the announcement of all these three camera before December of 2018.
We will update you soon as we get any new information.
you can help us if you love our work
If you really like our work – Consider a Monthly Subscription (as low as $5 a month)
Follow us on our social pages  FACEBOOK | TWITTER | GOOGLE+, Or subscribe us via Email or Push Notification You Can also Download our Android App