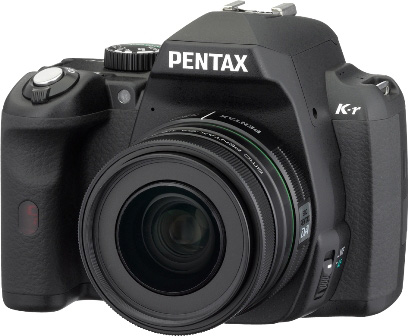 The K-r offers a variety of new and improved features including a fast framerate, high ISO sensitivity, responsive autofocus, an improved 12.4 megapixel low-noise sensor and widescreen HD video capture that take it a step above an entry-level DSLR camera.

Key features of the PENTAX K-r that are new or have been improved upon from the most recent entry to mid-level PENTAX DSLR models include:
•    Three stylish color choices include traditional black, the new classic white, and PENTAX red reflect any owner's personal style.
•    Large 3 inch LCD with 921,000 dots of resolution.
•    Faster high speed 6 FPS framerate that captures 25 images in a single sequence.
•    A maximum 1/6000 second shutter speed.
•    Viewfinder focus point indicator.
•    Improved in-camera HDR image capture including a Night Scene HDR mode.
•    High sensitivity 100-25600 ISO range with improved noise performance from the new 12.4 megapixel CMOS sensor.
•    Versatile dual-power-source design, which offers the choice of either a rechargeable lithium-ion battery or four AA-size battery power (using optional AA Battery Holder D-BH109).
•    Infrared data transfer compatible with the IrSimple™ high-speed infrared data transmission system for wireless data transfer to the web or other IrSimple-compatible devices  (includes a match-game between two PENTAX K-r's).

Other important features of the new K-r models include:
•    Widescreen 720p HD video at 25 FPS.
•    PENTAX-original Shake Reduction mechanism for sharp, blur-free images that works with every PENTAX lens ever made
•    Dust Removal mechanism, to shake dust off the CMOS image sensor.
•    Highly responsive and accurate 11 point SAFOX IX autofocus system with dedicated AF assist lamp.
•    Wide range of in-camera image processing and special effects filters.

With  a highly portable, compact and lightweight body in a choice of colors, the K-r  holds appeal for busy parents, family memory-keepers, travelers and anyone who reflects  personal style in all their pursuits including their journey into photography or videography as a skill or hobby.

The PENTAX K-r digital SLR PRICE and will ship in October 2010 for as follows:
K-r Body Kit                                      $799.95 USD
K-r Lens Kit w 18-55                           $849.95 USD
K-r Double Lens Kit w 18-55, 50-200    $899.95 USD
K-r Double Lens Kit w 18-55, 55-300    $999.95 USD
Want to See Camera more Closely?
Download the high resolution camera images of Pentax kr Black, Pentax Kr Red and Pentax Kr White