Canon patent a new lens for 1.5inch sensor camera, the Canon 1.5 inch sensor only used in only Canon G1X series camera. So, either Canon G1X Mark III or Canon G1X Mark IV is coming with the lens mentioned below.
Text translated from Japanese
Canon is corresponding to 1.5 "sensor of equivalent 24-120mm equivalent of 13-65mm F2-5.8 patent is being filed. PowerShot It is a good G1 X Mark II is more compact.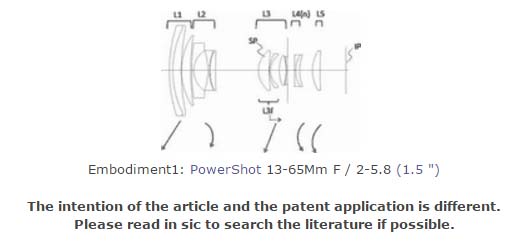 Patent Publication No. 2016-166972
Published 2016.9.15
Filing date 2015.3.10
Example 1
Zoom ratio 4.71
Focal length 13.85 36.00 65.22
F-number 2.07 5.15 6.00
Angle of view 36.23 18.00 10.17
Image height 10.14 11.70 11.70
Overall length of the lens 86.64 94.70 104.04
BF 13.07 24.04 23.10
See some latest – Canon G1X Mark III Rumors | See more Canon Patents