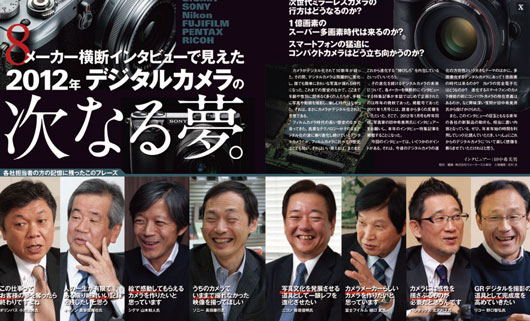 Japanese Magazine "Impressjapan" published exclusive interview with eight camera manufacturers in this PDF, The print issue will arrive in January,
We are publishing the highlights / Summary of the interview.
Olympus: Olympus Imaging Marketing Division Minister Ogawa Said (See more)
He sincerely apologized for the current trouble at Olympus.
Currently developing a new series of micro four third camera (Not Pen) with a new type of viewfinder(hybrid?). The Upcoming Mirrorless Camera will  be a based on a brand new concept.
When asked about Four Third Camera, Olympus is developing E-5 successor
Canon: Canon Imaging Rong Said Canon will announce its mirrorless and high End Compacts in 2012.
The Best part of the interview was Canon confirms Mirrorless System is coming in 2012, See more: on October 2011 we have published News/Rumor Canon Mirrorless is coming on 2012. See more Canon Rumor
Sigma Corporation President Said: They are working on M43 mount lenses and APS-C format Foveon Sensor Camera
  Sigma DP series will be expanded on 2012
  Development of APS-C format SD series
  M43 mount lenses Coming
Nikon
Nikon Imaging Marketing Division Marketing Manager said: D700′s successor as the solution for high-pixel high-strength, D3 successor machine for high-speed sense is coming
the D3 and D700 successor , Nikon D4 is optimized for High Sensitivity and Nikon D800 for Higher MP.
to optimize the use of a portable camera
Sony Hong Said Small Lens for NEX camera , We know that E-mount lenses have been large considering the size of the NEX bodies, So We may some pancakes or PowerZoom Lens from Sony in 2012,
Small E-mount lenses for NEX cameras
 Introduction of electronic shutter in upcoming camera.
A 100 megapixel sensor from Sony in 2012
Fuji: Fujifilm Higuchi Wu Said New Mirrorless with an APS-C Sensor will arrive in 2012,with the X100 and X10 the same,
will take the high route to the showdown (Mirrorless coming 2012)
AF speed is quite fast, and future plans are low-end models
as the solution of power level will exceed the full-size
Pentax Said R&D is going on for Full Frame and 645D mirrorless
All upcoming "DSLRs" of Pentax will have 100% field of view coverage, even for entry level models;
The FF and 645D mirrorless is only the personal thinking of the Head himself!
Ricoh: Ricoh Said  we will see a B&W dedicated compact camera in 2012, Zoom will be added to high end compact Ricoh GR DIGITAL.
In 2012 Pentax lens unit are coming for Ricoh GXR Interchangeable Unit Digital Camera System.
News src – xjrumo