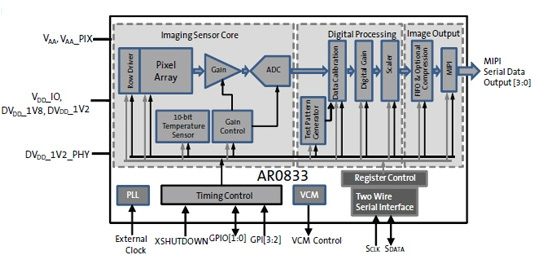 The new Aptina AR0833 1/3.2" format 1.4-micron pixel sensor can captures 8MP stills and Full HD movies. Additionally, the AR0833 is HDR ready for still and video applications capturing difficult high range scenes when coupled with an HDR processor.

Aptina™ A-PixHS™
A-PixHS™ technology brings together Aptina's backside illuminated (BSI) pixel technology and an advanced high speed sensor architecture to enable a new class of high performance cameras. The BSI pixel maximizes the efficiency with which the light is captured by inverting the sensor to put the photo sensitive region closer to the lens and by implementing advanced engineering techniques found in AptinaTM A-PixTM technology. The advanced high-speed sensor architecture leverages the speed and sensitivity of the BSI pixel to enable fast, vivid video and image capture.
The AR0833 is currently sampling and will be available in mass production CY Q2 2012.