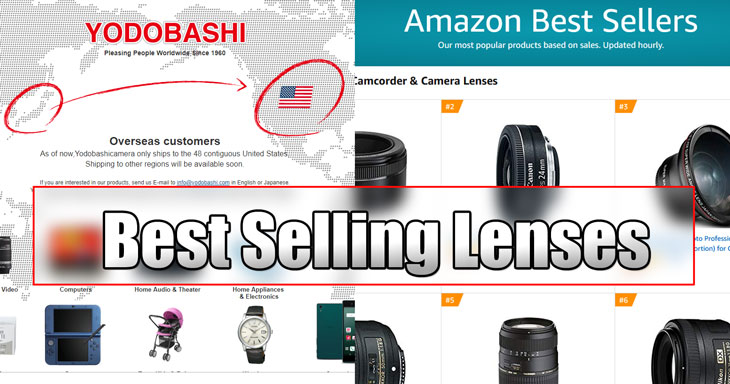 The stats are coming from Japanese  yodobashi website, And we have also added Amazon USA Sales stats of yesterday (21 Jan ). As you can see in Yodobashi raking, Mirrorless lenses are grabbing Major positions and in Amazon.com USA stats, we have only one Mirrorless lens in Top ten list and its name is Tamron RXD 27-70 F2.8 for Sony FE Mount cameras.
So, More or less Sales stats are changing based on market demand, as of now new buyers are giving priority to Mirrorless cameras. And if you are planning to get get a Camera in 2019 then go Mirrorless instead of investing you income in DSLR camera. See Best Selling Mirroless Camera at Amazon.com
Yodobashi camera Store Raking from December 31 to January 15 is posted.
Sony FE 24 – 105 mm F 4 G OSS
Tamron 28 – 75 mm F 2.8 Di III RXD (Sony E Mount)
Canon RF 24 – 105 mm
F 4 L IS USM 4 th Canon EF 70 – 200 F 2.8 L IS III USM
Canon EF 100-400 mm F 4.5-5.6 L IS Ⅱ USM No. 6 Canon EF 24 – 70 mm F 2.8 L Ⅱ USM
 Nikon AF – S NIKKOR 24 – 70 mm f 2.8 E ED VR
Canon EF 600 mm F 4 L IS Ⅲ USM
Nikon AF-S NIKKOR 70-200 mm f 2.8 E FL ED VR
Sony SEL 2470 Z Vario-Tessar T * FE 24 – 70 mm F 4 ZA OSS
Canon EF 50mm f/1.8 STM Lens
Canon EF-S 24mm f/2.8 STM Lens
58MM 0.43x Altura Photo Professional HD Wide
Tamron Auto Focus 70-300mm f/4.0-5.6 Di LD Macro Zoom Lens
Nikon AF-S Nikkor 50mm f/1.8G Lens
Nikon AF-S DX NIKKOR 35mm f/1.8G Lens with Auto Focus
YONGNUO YN EF 50mm f/1.8 AF Lens YN50 Aperture Auto Focus for Nikon Cameras as AF-S
Sony – FE 50mm F1.8 Standard Lens
Canon EF 75-300mm f/4-5.6 III Telephoto Zoom Lens
Tamron 28-75mm F/2.8 for Sony Mirrorless Full Frame E Mount
Stats source AMazon.com | yodobashi (japan)