Another confirmation that Olympus is Working on a Fullframe Mirrorless Camera, earlier Olympus also filed a  patent for 28mm full-frame mirrorless Lens, take a look here. . And in a recent patent filed by Olympus we can see they are working on a 24mm F1.4 Lens patent made for for a full-frame mirrorless camera.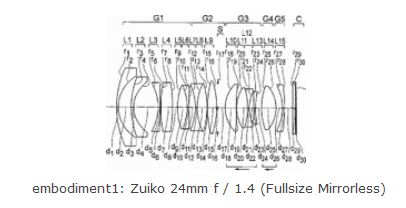 Take a look at the patent details below translated by google.
Description, self-interpretation of the patent literature
Patent Publication No. 2016-38418

Published 2016.3.22

Filing date 2014.8.5

Example 1

f 24.48

FNO.

1.41

2ω 91.37

IH 22.50

FB (in air) 9.49

Total length (in air) 154.18
Stay with us and we will update you soon as we get any new information.