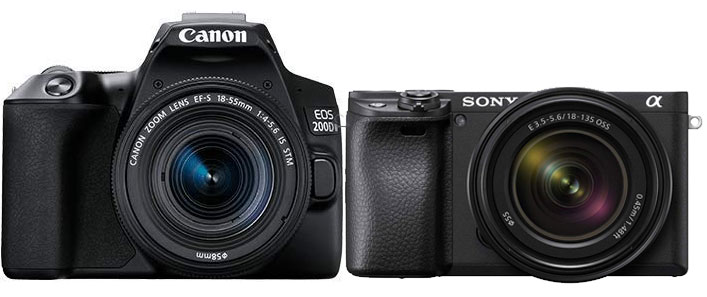 We are getting lot's of question from users that what type of camera we should buy in 2019, either a Mirrorless camera or a DSLR camera. Check out the list of best Mirrorless camera below
DSLR or Mirrorless, Which Camera we should buy in 2019 ?
In 2019 you should buy Mirrorless camera. These DSLR makers will slowly end up their entry level and Mid range DSLRs segment once they have enough Mirrorless option for users. The entire DSLR cannibilization will take place in next 5 to 7 years.
1. They are Bound to announce DSLRs, but they also want to shift their consumer base to Mirrorless
Right now they have very limited options (Mirrorless) and that's why even in 2019 they are bound to announce new entry level and Mid range DSLR camera so user remain with their brands. At the end they don't want to lose their consumers, they do know if they end up their DSLR at the moment their consumer base will run away to other mirrorless makers.
Existing Professional who heavily invested in DSLR Lenses and want to remain with their brand. For them DSLR giants will continue to update Highly popular FF DSLR bodies with added delay.
2. Canon DSLR Cannibalization is effective since Dec 2018
Yes they will intentionally delay the update so user automatically moves to Mirrorless Zone. Canon representatives publicly told us in an interview that Canon will be cannibalizing their DSLR camera in favour of Mirrorless.Ou
3. Nikon also promoting Mirrorless camera instead of DSLRs
They are already doing so, Nikon announced Z6 camera instated of updating the Nikon D750. And once the sales number of Nikon Z6 camera will reach to a desired level, they will announce the Nikon D760 camera with more or less same core specs as of Nikon Z6 camera.
Yes, the D750 camera update will arrive in the next few months with almost the same core specs we have seen in The Nikon Z6 camera.
As a consumer we have to understand one thing before investing our hard earned money
DSLR makers are now cannibalizing DSLRs so we have to make a smart choice now
Mirrorless is future and even DSLR makers are now giving more priority to Mirrorless camera.  And the DSLRs Camera and Lenses will become outdated in next 5-7 Years.
4. Recommendation – Invest in Mirrorless Camera and Lenses in 2019 or 2020
Our recommendation is you should go with Mirrorless camera and lenses. Below we have made a quick quide to help you to buy your next Best Camera
5. Best Mirrorless Camera in 2019 (August – September)
Best Hybrid APS-C Camera for Video and Still – Sony A6400 (Amazon | B&H)
Best Mid Range FF Camera – Sony A7III (Amazon | B&H) / Nikon Z6 (Both are excellent option) (Amazon | B&H)
Best Medium Format Camera for Semi-pro – Fuji GFX 50S (Amazon | B&H)
Best Medium Format Camera for Professional – Fuji GFX 100S (Amazon | B&H)