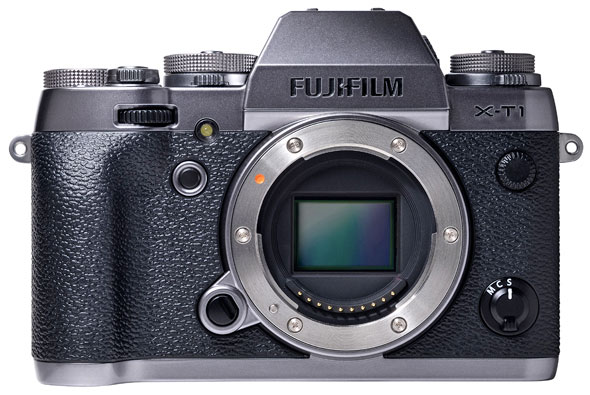 Buy Fujifilm X-T1 Silver from Amazon | B&H Store
 Fujifilm just announced the X-T1 sliver camera, the camera features same core specification as of the X-T1 camera but it the X-T1 silver comes with many minor upgrades on software level, take look at the list of improvements below
Design: The X-T1 comes with a Triple layer coating that gives your camera super smooth finish.
New Live View: The Sliver X-T1 now feature Natural Live View mode in the EVF, that gives you excatly same colors as you look from a naked eye by disabling the Preview Picture effects of shot settings.
Introduction of electronic shutter: Fujifilm also added the electronic shutter with the announcement of Fujifilm X-T1 silver, now you can strech the shutter speed of the camera to 1/32000 that can be set in 1/3 steps when using the FUJINON XF23mmF1.4 R, XF35mmF1.4 R, or the XF56mmF1.2 R lenses.
The additional advantage of the electronic shutter is silent shooting, when you select the electronic shutter option the camera will use electronic shutter only, so it gives you a excellent option for low noise work when needed.
Classic Chrome film simulation – Fujifilm added a the famous 'Classic Chrome' film simulation mode in X-T1 silver edition, in that mode you get warm skin tones, bright blue skies and rich green tress…
Now all the digital features features listed below will be added to the old and new X-T1 camera in December 2014.,
(1) Direct selection of AF Area
The update will let users select the focus area using the 4-way controller, without pressing the Fn key.
(2) Unlocked AE-L/AF-L buttons
The function of the AE-L/AF-L button is currently locked, but will be interchangeable, depending on the user's preference.
(3) Variable Focus Area during MF
When working in Manual focus mode, the update will enable changing the size of the focus area during Instant AF with the AF-L button.
(4) Direct selection of Macro mode
In Autofocus mode, the update will enable the Macro function to be turned on or off, without accessing the pop-up menu screen.
(5) Q Menu customization
To make the Q Menu (used for quick access of frequently-used items) even more efficient, the update will allow its items and layout to be changed to the user's preference.
(6) New video frame rates
As well as the existing 60fps and 30fps selections, 50fps, 25fps and 24fps options will be available with the update. 50fps and 25fps allow video editing in the PAL regions, such as Europe, without converting the frame rate. 24fps offers a cinema-like view.
(7) Manual shooting in Video mode
The update will enable ISO sensitivity selection prior to shooting videos, as well as the ability to adjust aperture and shutter speed during movie recording.
(8) Phase Detection AF support for Instant AF
In Instant AF mode, which is operated by pressing the AF-L button during manual focusing, the update will enable Phase Detection AF, providing faster focusing speeds.
(9) Interlocking of Metering and Focus areas
Users will be able to interlock the AF area position with the Metering area when Spot Metering mode is selected.
(10) Expansion of shutter speed in Program Shift mode
In the current Program Shift mode, the slowest-speed setting is 1/4sec, but this will increase to a maximum of 4secs.