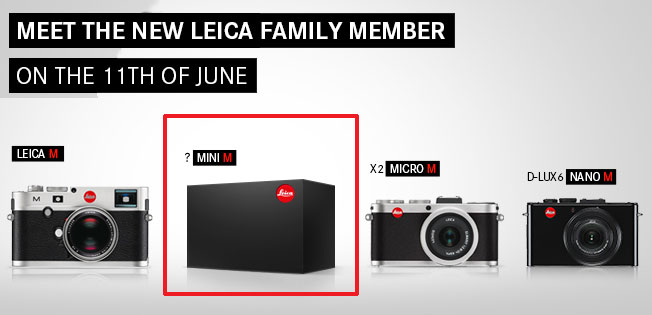 Leica today uploaded a picture with a mysterious object labeled the "Mini M" sitting between the Leica M and Leica X2, According to Leica the Mini M is coming on June 11th,the Mini M is sitting between full-frame M and the APS-C-loaded X2, no more specification is available yet.
Rumors – What Can come now?
Its a high probability that leica may introduce a full-frame compact camera or a entry level mirroless system on June 11.
A full frame compact camera will recover the sales damage caused by Sony RX1 / to stop buyers moving towards Sony RX1 and other high-end compact camera.
+ Leica is also a member of Four Thirds system companies, so we may see a M4/3 based Mirrorless system camera from leica on June 11th.
As of the 2006 Photo Marketing Association Annual Convention and Trade Show, the Four Thirds consortium consisted the following companies:
Fuji

Kodak

Leica

Olympus

Panasonic

Sanyo

Sigma
Src – Leica