Interview with Canon Mirrorless Makers taken by DC Watch website, Well take a look at some major parts of the interview translated by google. Do read these major parts
Meet the Canon Mirrorless Developer team
1. Canon Confirms that EF-M lenses aren't designed while having FF Sensors in mind.
EF-M Lenses are not compatiable with Fullframe Sensor
Q. – Can the EF-M mount correspond to sensors larger than APS – C size, eg 35 mm full size sensor?
Kikuchi: I think that I can not do that. I can not say that if I do something strange, I will not physically enter … …. It is a level that the amount of marginal light falls considerably or that you do not know what the image will be like. 
2. EOS M Cameras are targeted for Female Shooters not male ?
Q. Who is the target user of EOS M?
" Togura: The target user is clear in the country, is a customer who is said to be a camera girls. I think that the female group in the 20s and 30s who began waking up to the camera and photographs will become the main target. "
3. A Good Question by the interviewer  
Q.  – Although the launch of a mirrorless camera started later, what is the advantage over the other competing products?
Kikuchi: The first part is the high image quality as it is attached with "EOS".
Togura: I think that the portion called high image quality can be given as the lead…. In addition, it is an advantage to be able to use the EF lens with the mount adapter.
Kikuchi: … the total image quality such as lens performance and image processing engine.
4. When the Development is started… its a secrete ?
Q. – When did you start development from around?
Tokakura: It's a secret about the development period … …. However, since compact and lightweight is universally required, it existed for a long time as a source of planning.
Canon isn't Disclosing Domestic Mirrorless Market Stats after 2012, Why ?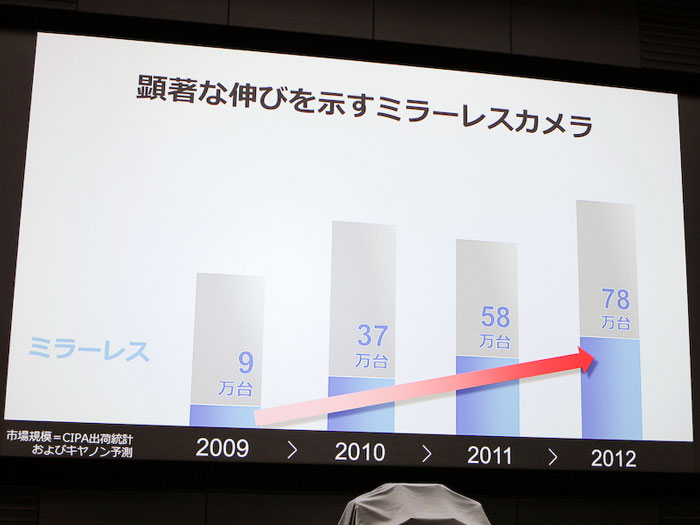 5. Domestic Market Share
Q. – So, how much share do you want to take in the mirrorless market with EOS M?
Tokura: In the domestic market, we are targeting a 15% share on average on a monthly basis since October. We do not disclose figures since 2013, but for the time being we will aim for this 15%. Looking at the breakdown of the second half of 2012, it will be 11% since the period before release is included.
6. reduce the mirror and finder and make it smaller ?
Q – What part took time to develop?
Kikuchi: Specifically, there is not such thing as "this part". This time it is mirrorless, you can reduce the mirror and finder and make it smaller. So how small is it to be most appropriate? In order to satisfy the optical performance, it took about a period of time to do what kind of examination as to how many millimeters of flange back should be done.
5. Canon G1X Mark III Sales are high
– "There is no mirror with a large sensor size" is said to be a lens-integrated " PowerShot G1 X ", but what about sales?
Tokura: It is very strong. It is planned to be about 30,000 units per month, but it is moving as planned at present. Depending on the region, it has enough back order. Particularly popular are the Asian countries such as Japan, Taiwan and Hong Kong.
Follow Canon Group at Facebook for latest updates
Stay with us FACEBOOK | TWITTER | GOOGLE+ to get live news + Canon rumors 24X7