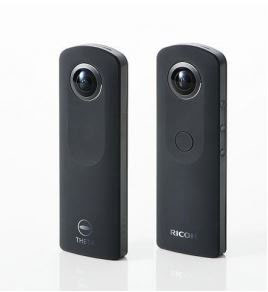 The next generation of Ricoh Theta S camera leaked online take a look at the detailed specification below.
up to 14 MP pictures
can record spherical video in full 1920x1080p HD at 30fps with a maximum recording time of 25 minutes
f/2.0 lens
image sensor size: 1/2."
Google Maps will introduce new app that will be compatible with the Theta S
improved WiFi with faster data transfer
rubber coating
LED indicators
8GB memory
microUSB 2.0, HDMI micro ports
Live stream via USB at 1280x720p at 15fps and 1920x1080p at 30fps for HDMI.
price: $349 (EUR 399, GBP 299)
shipping in late October 2015
About Rioch Theta
The first version of The Theta announced on 5 September 2013 at Tokyo and Berlin by Rioch. Theta is a powerful small spherical camera that captures the entire space around you. you can capture the entire view of the image ilcuing you as well as the subject and the environment.
Me and my new friend "llama" in Salar de Uyuni, Bolivia – Spherical Image – RICOH THETA
A part of the Theta Press Release
The RICOH THETA features a proprietary ultra-small twin-lens folded optical system that captures the scene around, above and below the device in one shot for unprecedented, fully spherical images. Fitting easily in a pocket or the palm of a hand, the slim, lightweight (95-gram) RICOH THETA is a go-anywhere device suited to confined spaces, the great outdoors and everywhere in between.
The device is synchronized with smartphones, where images can be immediately transmitted via Wi-Fi® and viewed with a dedicated free app. The app also allows images to be pinched, swiped or rotated to edit size, shape and composition. Images uploaded to theta360.com can be shared on social networks such as Facebook™, Twitter™ and Tumblr, as well as Microsoft®'s Photosynth®.