We have the list of selected Holiday gift for those photographers who have packed schedule and faces tough to go for holiday shopping for their photography. So we are recommending few gifts for them so that they can chose according to your requirement.
1. InnerTeck Tripod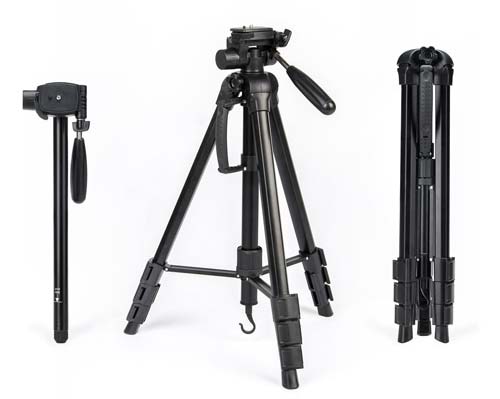 InnerTeck Tripod from Amazon
InnerTeck Tripod – One of the best and affordable gift for your photographer friend is Amazon basic tripod for that is available under $50. Unique Design allow you to convert tripod to monopod in seconds. The tripod is being purchased by one of the large number of audience of the theNewcamera.com. The tripod is really Lightweight approx 1.65kg and hence a perfect companion for travel shooters. The 3-way panhead with quick release plate give access to take pohots at any angle with horizontal and vertical.
2. Photo Portrait Studio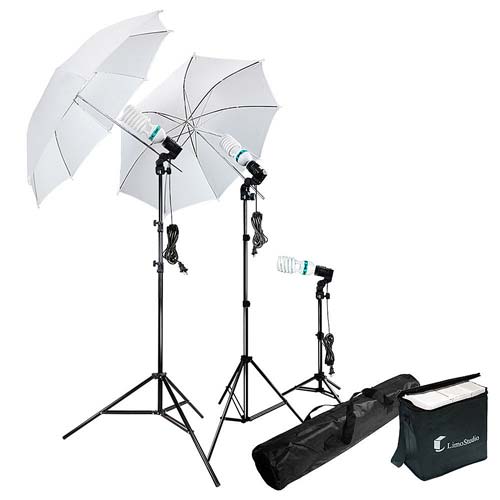 Buy Photo Portrait Studio from Amazon

Photo Portrait Studio – One of the best photography gifts for a photographer is a complete set of photography portrait Studio. The complete set Photo Portrait Studio 600W Day Light Umbrella Continuous Lighting Kit by LimoStudio, LMS103 available just under $50 and it is also one of the most sold item of our website. The studio lightning kit has got more than 3000 positive reviews given by the photographers.
3. Best Airport Advantage Rolling Camera Bag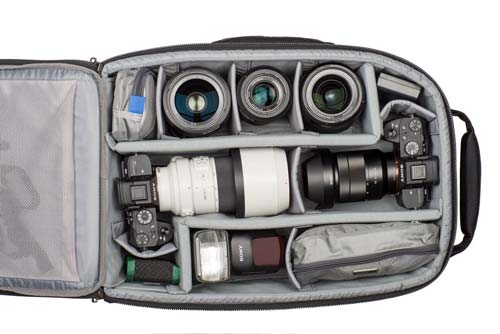 Buy Think Tank Bag from Amazon
Think Tank Best Airport Advantage Rolling Camera Bag – The Think Tank Airport Advantage Rolling Camera Bag is suitable for almost all photographers who have to travel long distances by air. They can put the lovable camera along with accessories safely in to it, and needn't to worry from scratches or any unwanted event. It is light and comes with dimension of 12.7 x 19.5 x 7.3 in (32.3 x 49.5 x 18.5 cm), weighs 5.9 lb (2.7 kg). The company has designed in such a way that 2 gripped DSLRs with 3-4 lenses can be fitted easily and also has a space for 15-inch laptop.
If you are looking for Tavel Backpack click here
4. The Ricoh Theta SC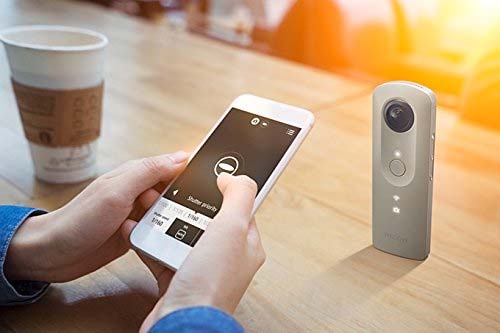 Buy Theta from Amazon
The Ricoh Theta SC – It captures 360° still images and movies with excellent quality and highly accurate stitch processing. It features twin spherical lenses with 14MP sensors to capture 360 degree images and video that can be viewed on devices like the Samsung Gear VR, or it can be shared to social media from Ricoh's Theta S app. It is affordable, light and images can be captured in about 1.5 seconds after the power is turned on.
5. iPhone 7plus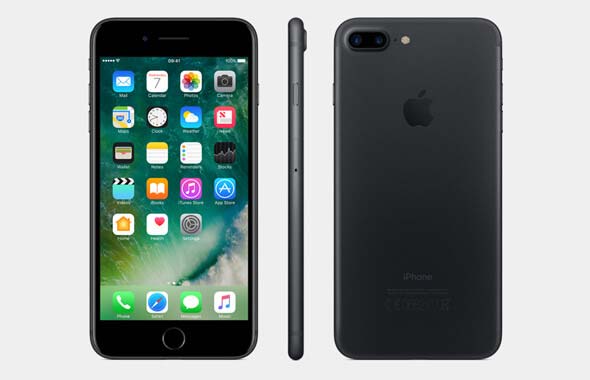 iPhone 7plus – Being a Photographer I look towards the smartphones which really help me while I am alone (without my camera). OS doesn't matter to me Windows, Android or Apple.. the only thing I look is the specification of smartphone camera. And at that point after my Alive Nokia 1020 smartphone Apple iPhone 7plus quality is outstanding. The DOF effect of iPhone 7Plus is really usable and creates a pleasing bpkeh effect on the background.
6. The Mini Camera with Print Machine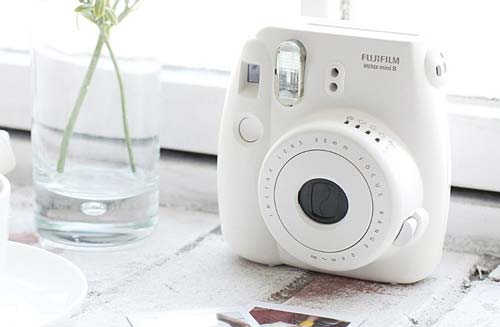 Buy this camera from Amazon
The next gift we recommend you is a instant camera and its name is Fuji film instax Mini 8. The camera quickly captures the scene by determining the best light available to it and print out those pictures instantly. The camera is very affordable and it is available at a price $59 and when bundled with zero color print paper you have to pay $61 only we highly recommend you to get this gift for someone you really love.
7. NEXT BIG THING – HERO5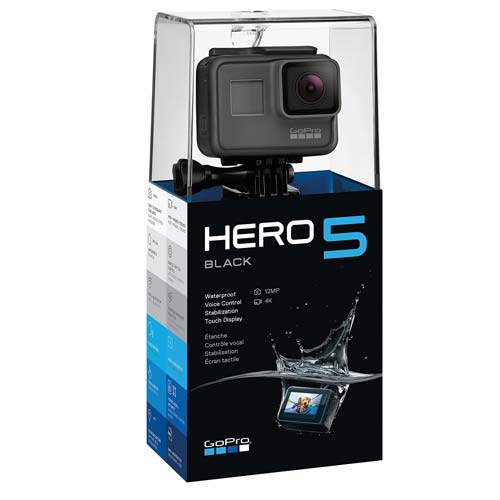 Buy Hero 5 from Amazon
The next BIG THING we are discussing with you is HERO 5 camera with a option to record 4kVideos on the go and the camera can be controlled by user voice.In short the HERO 5 is a action camera that can shoot 4K videos and still images of 12 megapixel, camera features of very durable design and its waterproof up to 33 feet and also Shockproof.
On the rear side if the camera we have 2 inch display it has a rugged + waterproof design and with a simple one button click it will going to record your 4K videos.The tiny device also have In camera Video image stabilization as well as a GPS module.
An affordable option to HERO 5 is HERO that is available at a price tag of $199 and it records Full HD videos and 8MP Stills. Click here more about HERO
8. Best Mirrorless Travel Backpack Bag for you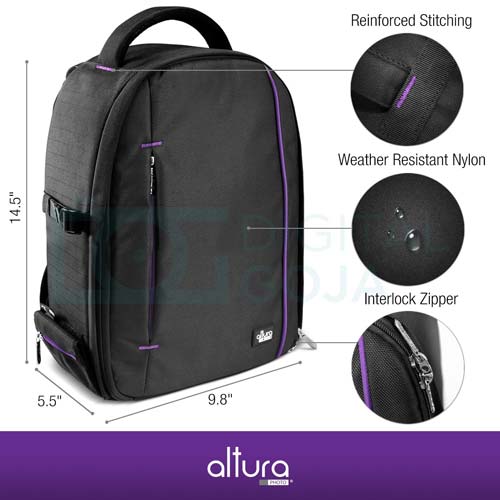 Buy the Travel Backpack Bag from Amazon
U will get surprised that under $40 this bag store and protect your most valuable photography equipments. you are getting such a high quality mirrorless bag that will last for decade and trusted by more than 1000+ customers worldwide. The Bag Holds and protects a DSLR camera and lens, 3-4 additional lenses, a shoe-mount flash, plus a compact tripod or monopod. If Made from durable weather resistant nylon with tough reinforced stitching for everyday carry.
9. Sony RX100V World Bets Ultra-Compact Camera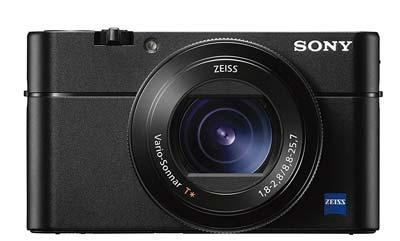 Buy Sony RX100V from Amazon
One of the best ultra compact available in planet is Sony RX100Vcamera. It can record high quality Still images and 4K videos with its Stacked 20 MP 1″ Exmor RS CMOS Sensor. The RX100 V features a built in Hybrid Sensor that is fabricated with 315 phase detection – AF points on a compact camera. The camera features 4K direct pixel readout, no pixel binning hence you get crystal clear 4K videos. Sony RX100V is able to record fastest continuous shooting speed1 at 24fps3 w/ AF/AE tracking. Undoubtly the RX100V is the best camera to buy for now.
10. Nikon D5300 – 24MP, 39 Point AF  @ $696
Nikon D5300 is the best camera that a entry level user should buy since when you look at the price vs specification ratio the Nikon D5300 make it best choice available for the user today.
Nikon D5300 features advance core specification compared to the Nikon D3400 camera: You get 24 Megapixel CMOS Sensor and a 39 Point AF system camera whereas the AF system of the Nikon D3400 remains limited to 11 Point.
We highly recommend Nikon Nikon D5300 DSLR for beginners. A year old Mid-range Nikon D5300 DSLR features better core specification and reasonable price tag compared to current Canon and Nikon entry level DSLRs.
Also See – Nikon D5300 Recommended Lenses
Buy Nikon D5300 from Amazon | B&H  | AmazonUK