Fujifilm X100s features better sensor, Advance image processor and better video mode, See the detailed specification specification comparison review of Fujifilm X100s vs Fujifilm X100.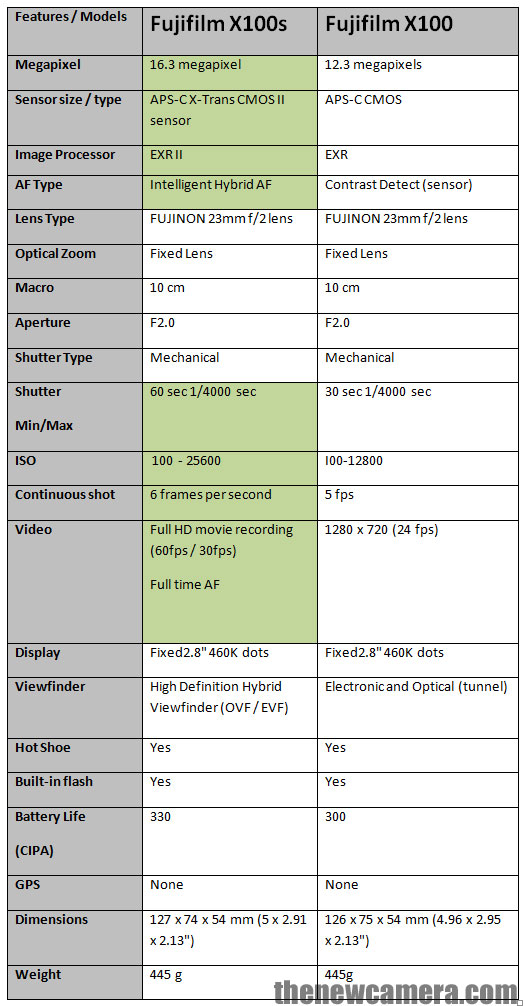 Sensor
The fujifilm features newly developed X-Trans CMOS sensor, the fujifilm X100s sensor is completly redesigned and features Phase AF points within the sensor
No-Optical Low Pass Filter (OLPF)  – X-Trans CMOS II incorporates an original color filter array with a highly random pattern, eliminating the need for an optical low-pass filter (OLPF). These filters are used in conventional systems to inhibit moiré at the expense of resolution. The X-Trans CMOS II array lets the sensor capture unfiltered light from the lens, achieving an unprecedented level of resolution.
ISO – The Fujifilm X100s have extended senstivity range of 100 – 25600, X100 is limited to 100
Less Noise – According to fujfilm the test says the fujfilm X100s have more details and approx 30% less noise than Fuji X100.
Due to the new OLPF-less architecture the Image captured by fujifilm X100s have more details compared to fujifilm X100 (when we see it at 100% scale), Take a look at Resolution Comparison and High-Sensitivity Comparison.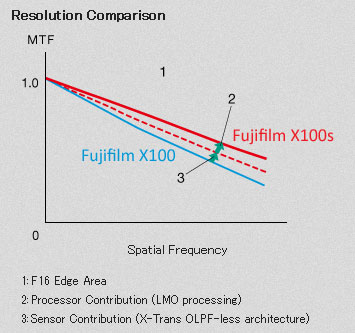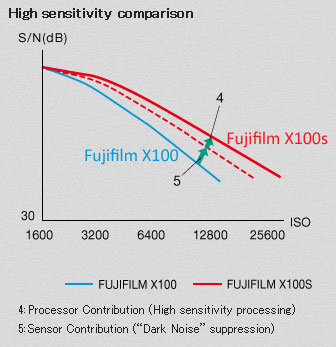 EXR Processor II
The newly developed processor speed-up the X100s to a next level, take a look at stats
Fast AF performance: Fujifilm X100s features Blazing fast AF speed of 0.08 sec , compared to 0.22 sec for X100
Quick startup – X100s take only 0.9 sec vs X100 2 sec.
You get Faster continuous shooting (6 fps vs 5 fps) + Large buffer, Fujifilm X100s offers you 31 frames vs 10 frames of X100 in JPEG Large/Fine mode.
Less shot-to-shot time in single shot drive mode (0.5 sec vs 0.9 sec)

Auto Focus
The Fujifilm X100s have Phase AF + Contrast AF (in short Hybrid AF), the Fuji X100s offers 0.08 compared to Fuji X100 which offers 0.22 second of AF Speed.
During Movie mode Fujifilm X100s Phase-detect AF effective for movie shooting, AF-S focus mode available (only AF-C and MF on X100).
Video Mode
Fujfilm X100s offers you 1080p 60fps Full HD recording, with 36Mbps bitrate, X100 is limited to 720p 24fps.

other  new features
Auto mode ISO  increased to 6400
14bit RAW Support
Minimum shooting distance using OVF reduced to 50cm (X100 have 80cm)
Minimum focus – normal shooting distance is now 21cm (X100 have 40cm)
Eye-Fi card support
bit more battery life
Conclusion

Fujifilm features better sensor
No-Optical Low Pass Filter (OLPF)
Hybrid AF (Phase + Contrast)
Phase AF during Video Recording
30% less noise in images compared to X100
EXR II processor–> Fast Start-up, AF and Less shot-to-shot time
Auto mode ISO increased to 6400
Expandable ISO increased to 25600
14 bit RAW support
Eye-Fi Card Support

We highly recommend you to buy Fuji X100s , no reason to buy X100.
Buy Fujifilm X100S from Amazon || Buy Fujifilm X100S from B&H