Fujifilm X10 vs Nikon P7100 vs Canon G12, which one is more better? Read our comparison review to find out why Fujifilm X10 is a better compact camera compared to Canon G12 and Nikon P7100.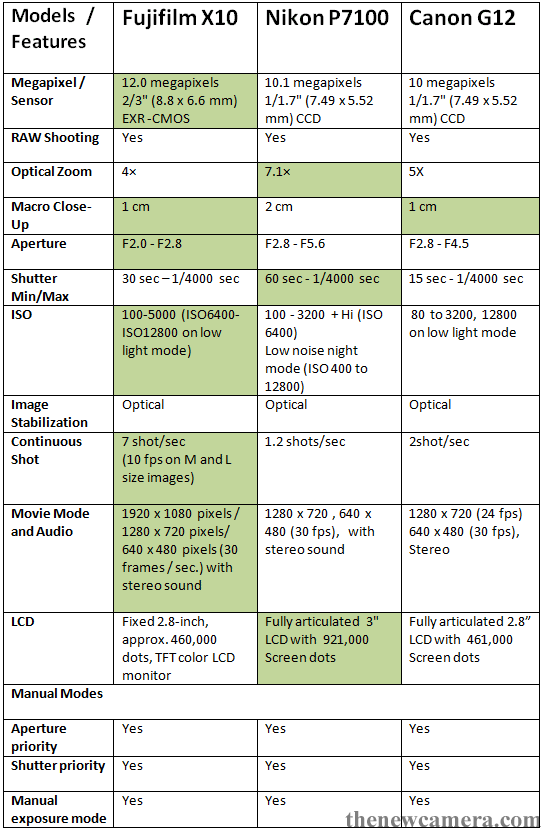 The Sensor of Fujifilm X10: The Fuji X10 have  12.0 megapixels 2/3″ CMOS sensor, bigger  than Canon G12 and Nikon P7100, The bigger Fuji EXR CMOS sensor will give you less noise and better dynamic range compared to smaller CCD sensors of Canon G12 and Nikon P7100. See more Fuji X10 Sensor vs Canon G12 Sensor
Buy Fujifilm X10 from Amazon || Amazon UK
The Lens of Fujifilm X10 is a manual barrel zoom lens with newly-developed high-definition Super EBC (Electron Beam Coating) FUJINON lens which achieves superb clarity over the whole of the image, the ultra bright lens have a wide-angle maximum aperture of 2.0 and telephoto maximum aperture of 2.8,
The ISO Auto Setting of Fujifilm X10 function adjusts it automatically between 100 and 3200, In canon G12 the default Automatic ISO setting is 100 to 1250 and Nikon P7100 allows you to  set maximum  1600 ISO at auto mode.
ISO at Manual Mode – Max ISO at Full Resolution
Camera
ISO range – At Full Resolution
Fujifilm X10
100 – 5000
12.0 Megapixel
Canon G12
80 – 3200
10.0 Megapixel
Nikon P7100
100 – 3200
10.1 Megapixel
Continuous Shot : The Fujifilm X10 offers up-to 10fps of Continuous Shooting, Canon G12 have 1.2 Shot/sec and Nikon P7100 have 2 Shot/Sec.
New Noise Reduction Adjustment function to set the strength of noise reduction at five different levels according to the users' emphasis on whether to prioritise high resolution or low noise.
Finally the Movie Mode: Fujifilm X10 offers Full HD movie capture 1920 x 1080 pixels, better than the canon g12 and Nikon P7100.
LCD Display of Fujifilm X10 is fixed, Canon G12 and Nikon have Fully articulated display unit.
Conclusion: Fujifilm X10 is better compared to Canon G12 and Nikon P7100.
See more Nikon P7100 vs Canon G12

Buy Fujifilm X10 from Amazon || Amazon UK
Buy Canon G12 from Amazon
Buy Nikon P7100 from Amazon