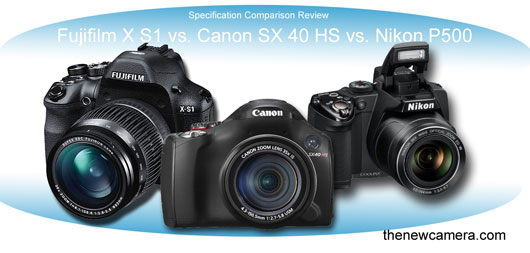 Fujifilm X S1 features bigger sensor but comes at high price with limited 26X optical Zoom Lens on the other hand Canon SX 40 HS comes half price and features 35X optical Zoom, which camera you will buy and why? Read the  Specification Comparison review of Fujifilm X S1 with Canon SX40 HS and Nikon P500 and share your thoughts with us.
Buy Fujifilm X S1 from Amazon || Amazon UK
Buy Canon SX 40 HS from Amazon || Amazon UK || Adorama || B&H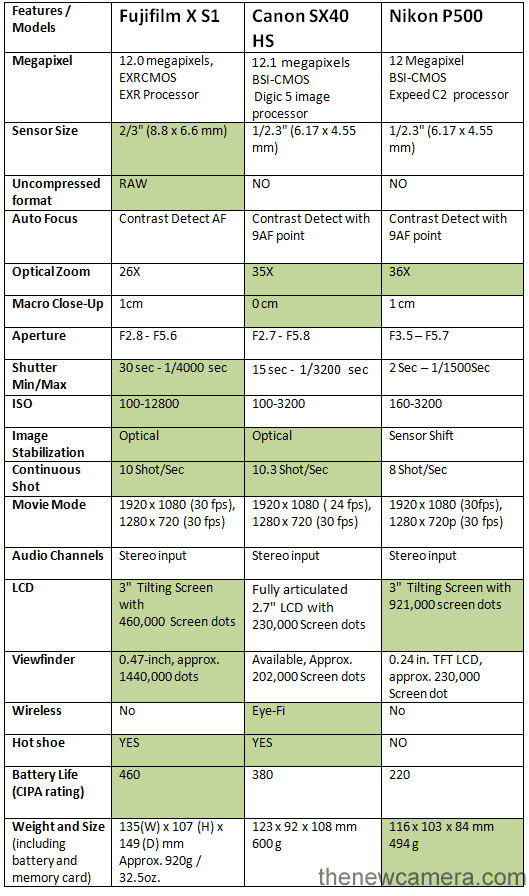 About Sensor and processor
Fujifilm X S1 features bigger sensor compared to Canon SX 40HS and Nikon P500, The sensor is not only bigger but Fuji X S1 uses same sensor of Fuji X 10 (Pro compact camera) and in several test done by Fujifilm and others we found that Fuji X 10 sensor is better compared to Canon G12.
The new sensor of fuji X S1 allows you Capture 3 exposures of the same scene with high-speed continuous shooting, each at a different dynamic range setting (100%, 200% and 400%).
But we should not forget about canon SX 40 HS Sensor and image processor, Canon SX 40 HS uses newly developed BSI CMOS sensor and DIGIC 5 image processor, the Digic 5 image processor creates 75% less noise and 6X faster compared to Digic 4 image processor,  Due to new sensor and image processor you get more details and less noise in high ISO settings.
Multi-area White Balance in SX 40 HS: The Canon SX40 HS features advanced Multi-area White Balance optimizing color tones of both subject and background under multiple light sources.
Nikon P500 image sensor captures more noise and less details compared to Canon SX 40 HS (See here).
Image Processor:  Image processor of both Canon and Fuji are very fast, both can capture 10 shot/sec in high speed shooting mode, Nikon P500 is limited to 8 shot/sec only.
RAW: Only Fujifilm X S1 features RAW format capture,  Fujifilm X S1 features in camera RAW converter, The conversion of RAW data not only takes into account exposure compensation, white balance and other in-camera image quality control settings, but also lets the user apply Film Simulation modes in the converter mode. For PC you get
AF Points: Fuji not mentioned in its specification chart but during research we found that Fujifilm X S1 features 49 selectable AF points, Canon and Nikon Features 9 AF points.
IS Image Stabilization
| | | | |
| --- | --- | --- | --- |
|   | Fujifilm | Canon SX 40 HS | Nikon P500 |
| Image Stabilization | Optical | Optical | Sensor Shift and VR |
| IS Modes(Hybrid IS) | Not Available | Available (Normal, Macro, Panning, Dynamic, Powered, Tripod) | Not Available |
Fuji Claims Fujifilm X S1 Equipped with a newly developed image stabilization mechanism, X-S1 effectively compensates for camera shake even when you press the shutter to capture a subject at extreme zoom. No further details available about the IS system of X S1.
Canon SX 40HS features 6 IS Modes and Optical IS The new Hybrid System of Canon SX 40 HS features Six  Intelligent IS Modes, Canon SX 40 HS automatically chooses from six different modes (Normal, Macro, Panning, Dynamic, Powered, Tripod) to optimize image stabilization and help achieve crisp, blur-free images for various shooting conditions
Nikon features Image sensor shift(not optical) + electronic vibration reduction (VR) function. Images captured with image sensor shift vibration reduction enabled are further processed with electronic VR for images that are sharper and exhibit less blur.
Lens and Aperture Range
| | | | |
| --- | --- | --- | --- |
| Camera / Specification | Fujifilm X S1 | Canon SX 40 HS | Nikon P500 |
| Optical Zoom | 26X | 35X | 36X |
| Macro | 1cm | 0 cm | 1 cm |
| Aperture | F2.8 – F5.6 | F2.7 – F5.8 | F3.5 – F5.7 |
Based on lens quality, aperture and optical zoom range canon SX 40 HS is a clear winner, Fujifilm Zoom lens is limited to 26X only.
Canon features UD glass, double-sided aspherical glass-molded and ultra-high-refraction-index glass lens elements to effectively suppress chromatic aberration while maintaining a remarkably compact size. The camera uses a VCM (Voice Coil Motor) for high-speed, quiet, energy-efficient lens movement with precise control.
Similarly as canon, Fuji features high optical performance glass lens elements (aspherical, high refractive index, and ED glass lenses) make the exceptional brightness of F2.8 at wide angle and F5.6 at telephoto possible.
Nikon P500 features 36x Zoom and NIKKOR ED glass.
Shutter Speed
You get more range in shutter speed in Fujifilm X S1 compared to SX 40 HS or Nikon P500.
| | | | |
| --- | --- | --- | --- |
| Shutter Speed | Fujifilm X S1 | Canon SX 40 HS | Nikon P500 |
| Max | 4000 Sec | 3200 Sec | 1/1500 Sec |
| Min | 30 Sec | 15 Sec | 2 Sec |
| Continuous Shot | 10 Shot/Sec | 10.3 Shot/Sec | 8 Shot/Sec |
Movie Mode
All the three Megazoom camera offers Full HD Video recording and AF during Video mode. Fuji offers Full HD at 30 fps, Canon Full HS at 24 fps and Nikon Full HD at 30 fps.
 Display: Practically I like Canon vari-angle display, but Nikon Wins here, Nikon P500 features 3″  Tilting Screen with  921,000 screen dots and Fully articulated 2.7″ LCD with  230,000 Screen dots.
Viewfinder: Fuji is a clear winner, it features a 0.47-inch superb high resolution viewfinder (approx. 1440,000 screen dots)  with eye sensor.
Batter Life: Based on CIPA rating the Fujifilm X S1 battery life is better compared to Canon SX40 HS and Nikon P500.
Size and Weight: Nikon wins here, The Fuji weight and Size is similar to entry level DSLRs, Fuji weight (Max) 920g and have bigger body Compared to Canon and Nikon.
Price
| | | | |
| --- | --- | --- | --- |
| Camera Models | Fujifilm X S1 | Canon SX 40 HS | Nikon P500 |
| Price (List Price) | $800 | $429 | $399 |
The Price of Fujifilm is just double the price of current Megazoom camera, will you pay double price for a bit bigger sensor or you will buy Canon or nikon?
Overall Conclusion
Best Megazoom: If you want a MegaZoom Camera Canon SX40 HS is a clear winner, canon SX 40 HS 35X Zoom Lens features excellent optics with Hybrid IS, Fujifilm X S1 is limited to 26X only.

Buy Fujifilm X S1 from Amazon || Amazon UK
Buy Canon SX 40 HS from Amazon || Amazon UK || Adorama || B&H
Image quality and dynamic range: Fujifilm X S1 Wins here, The X S1 uses same sensor as pro compact camera X10, you get RAW file, more control over the dynamic range while shooting.
Fujifilm X S1 Available from Feb at Amazon and other stores