Fujifilm HS30 vs. Canon SX40 HS vs. Nikon P500 specification comparison review, read the review below and select your best megazoom camera.

Buy Fujifilm HS30 from Amazon
Buy Canon SX40 HS from Amazon
Buy Nikon P500 from Amazon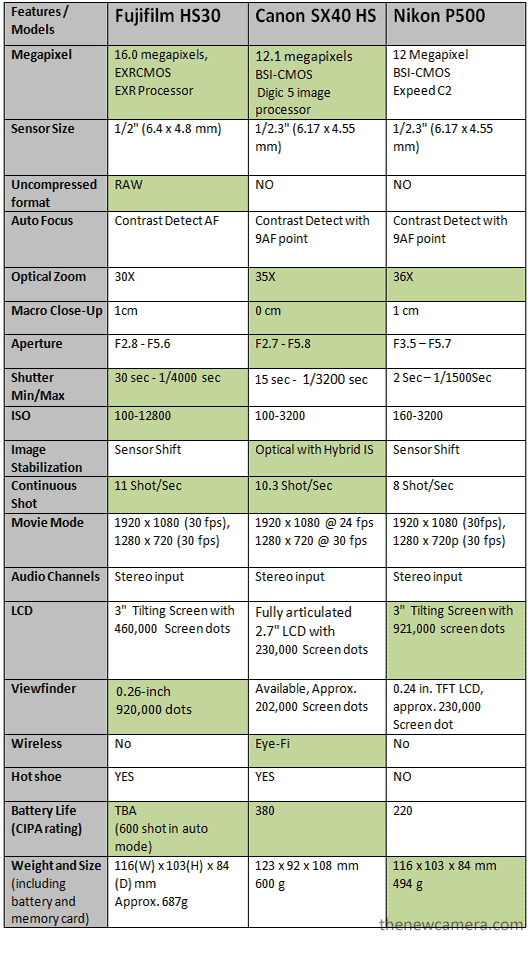 Sensor and image processor:
Fujifilm claims that HS30 uses new sensor, by redesigning the shape of the photo diodes used in the EXR-CMOS sensor, the images display 30% less digital noise at higher ISO settings (compared to HS20 @ ISO 3200), which results in smoother tones and better low light images.
Canon SX 40 HS uses newly developed BSI CMOS sensor and DIGIC 5 image processor, the Digic 5 image processor creates 75% less noise and 6X faster compared to Digic 4 image processor,  Due to new sensor and image processor you get more details and less noise in high ISO settings.
Multi-area White Balance in SX 40 HS: The Canon SX40 HS features advanced Multi-area White Balance optimizing color tones of both subject and background under multiple light sources.
Nikon P500 comes with a BSI CMOS sensor but uses old expeed 2 image processor.
Image Processor:  Image processor of both Canon and Fuji are very fast, both can capture approx 10.3 / 11  shot/sec in high speed shooting mode, Nikon P500 is limited to 8 shot/sec only.
RAW: Fuji is a clear winner on RAW mode, Only Fujifilm HS30 features RAW format capture.
IS Image Stabilization
| | | | |
| --- | --- | --- | --- |
|   | Fujifilm HS30 EXR | Canon SX 40 HS | Nikon P500 |
| Image Stabilization | Sensor Shift + High ISO | Optical | Sensor Shift and VR |
| IS Modes(Hybrid IS) | Not Available | Available (Normal, Macro, Panning, Dynamic, Powered, Tripod) | Not Available |
Fuji (CMOS shift + High ISO) Fuji HS30 uses sensor shift and High ISO modes to prevent camera shake.
Canon SX 40HS features 6 IS Modes and Optical IS The new Hybrid System of Canon SX 40 HS features Six  Intelligent IS Modes, Canon SX 40 HS automatically chooses from six different modes (Normal, Macro, Panning, Dynamic, Powered, Tripod) to optimize image stabilization and help achieve crisp, blur-free images for various shooting conditions
Nikon features Image sensor shift(not optical) + electronic vibration reduction (VR) function
Images captured with image sensor shift vibration reduction enabled are further processed with electronic VR for images that are sharper and exhibit less blur.
Lens and Aperture Range
| | | | |
| --- | --- | --- | --- |
| Camera / Specification | Fujifilm HS30 EXR | Canon SX 40 HS | Nikon P500 |
| Optical Zoom | 30X | 35X | 36X |
| Macro | 1cm | 0 cm | 1 cm |
| Aperture | F2.8 – F5.6 | F2.7 – F5.8 | F3.5 – F5.7 |
Based on lens quality, aperture and optical zoom range canon SX 40 HS is a clear winner,
Canon features UD glass, double-sided aspherical glass-molded and ultra-high-refraction-index glass lens elements to effectively suppress chromatic aberration while maintaining a remarkably compact size. The camera uses a VCM (Voice Coil Motor) for high-speed, quiet, energy-efficient lens movement with precise control.
Similarly as canon, Fuji features high optical performance glass lens elements (aspherical, high refractive index, and ED glass lenses) make the exceptional brightness of F2.8 at wide angle and F5.6 at telephoto possible.
Nikon P500 features 36x Zoom and NIKKOR ED glass.
Shutter Speed
You get more range in shutter speed in Fujifilm HS30 compared to SX 40 HS or Nikon P500.
| | | | |
| --- | --- | --- | --- |
| Shutter Speed | Fujifilm HS30 EXR | Canon SX 40 HS | Nikon P500 |
| Max | 4000 Sec | 3200 Sec | 1/1500 Sec |
| Min | 30 Sec | 15 Sec | 2 Sec |
| Continuous Shot | 11 Shot/Sec | 10.3 Shot/Sec | 8 Shot/Sec |
Movie Mode
All the three Megazoom camera offers Full HD Video recording and AF during Video mode. Fuji offers Full HD at 30 fps, Canon Full HS at 24 fps and Nikon Full HD at 30 fps.
 Display:
Practically I like Canon vari-angle display, but Nikon Wins here, Nikon P500 features 3″  Tilting Screen with  921,000 screen dots and Fully articulated 2.7″ LCD with  230,000 Screen dots.
Viewfinder:
Fuji features a 0.26-inch superb high resolution viewfinder (approx. 920,000 screen dots)  with eye sensor.
Batter Life
No CIPA rating currently available for Fuji HS30, but Fuji claims you can take 600 shots at auto with the new Lithium-ion rechargeable battery, Canon SX 40HS CIPA rating is 380 and Nikon P500 CIPA rating is 220.
Price
| | | | |
| --- | --- | --- | --- |
| Camera Models | Fujifilm HS30 EXR | Canon SX 40 HS | Nikon P500 |
| Price (List Price) | $499 | $399 | $320 |
Overall Conclusion: Nikon P500 is the most affordable megazoom camera, however according to specification, both canon and Fuji are better than the Nikon P500, Fuji HS30 zoom lens is limited to 30X but features RAW format and ISO range up to 12800, whereas canon SX 40 HS features 35X Zoom Lens with excellent optics and Hybrid IS.
Buy Fujifilm HS30 from Amazon
Buy Canon SX40 HS from Amazon
Buy Nikon P500 from Amazon
Support New Camera Buy Music CD or Digital Camera at amazon it helps this site, and you do not pay anything extra, it is just a way to help support this site.